Ariz. correctional officer honored for saving co-worker
Sgt. Joel Reza was awarded the Outstanding Law Enforcement Officers Valor Award in an Oct. 9 ceremony
---
By C1 Staff
PHOENIX – A correctional officer with the Arizona Department of Corrections was honored for his quick action in saving a fellow officer being attacked by inmates at the state prison in Florence.
AZCentral reports that Sgt. Joel Reza was awarded the Outstanding Law Enforcement Officers Valor Award in an Oct. 9 ceremony.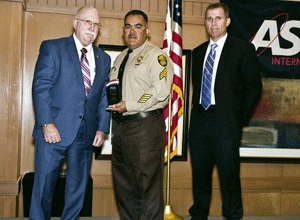 Inmates barricaded the Central Unit of the facility on April 9 and knocked Correctional Officer Daryl Boisvert unconscious. Reza quickly stepped in and used his body as a shield for Boisvert to prevent further injury to the fallen officer.
Reza sustained multiple injuries during the incident.
The award was presented at an annual awards event by the Phoenix Chapter of ASIS International.