Elizabeth Holmes to serve time in Texas minimum-security prison camp
Holmes lost battle to delay her incarceration when judge ruled she must surrender to serve her 11-year sentence
---
By Martha Ross
Silicon Valley
SAN JOSE, Calif. —Theranos fraudster Elizabeth Holmes likely will land in a minimum-security prison camp just 100 miles from her childhood Texas home in Houston but a world away from her children, her fiancé and the Silicon Valley investors she bilked through her now-defunct Palo Alto blood-testing startup.
Late Monday night, Holmes, 39, lost her months-long battle to delay her incarceration when Judge Edward Davila ruled that she must surrender April 27 to serve her sentence of more than 11 years for swindling investors out of hundreds of millions of dollars.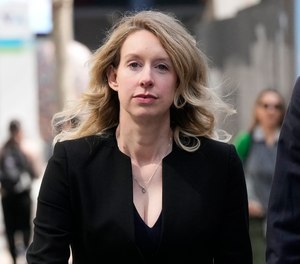 Whether federal prison authorities send Holmes to the facility in Bryan, Texas, in accordance with Davila's recommendation or somewhere else, the former high-flying CEO, and her two young children, when they visit her, are in for a tough time, prisoner advocates said.
"Her kids are definitely going to need therapy, and she will need therapy," said Starling Thomas, who served a year at Federal Prison Camp Bryan in 2017 and 2018 before her money-laundering conviction was thrown out on appeal. "It's going to be very difficult for her children. It's really going to take a toll on them."
Unless U.S. Bureau of Prisons officials go against Davila's recommendation — the agency did not respond to questions Tuesday about Holmes' imprisonment — she is on track to join several hundred other women incarcerated at Bryan. She will share a cell with up to three other women and work a mandatory prison job that could involve, at first, cleaning bathrooms or stuffing brown-bag lunches, according to Holli Coulman, who advises female defendants going into federal prisons.
During the first months in prison, a high-profile figure such as Holmes should stay "humble," said Coulman, of Pink Lady Prison Consultants. In a minimum-security prison, Holmes likely doesn't need to worry about physical attacks, but she could face name calling and other forms of hostility from women who perceive that her crimes involved an "abuse of power" and faulty blood tests that could have harmed "their grandmothers."
"People don't have a high opinion of her," Coulman said.
Some inmates might gravitate toward Holmes because they believe she would have money in her prison shop account, she said, "but her treatment is likely to be more akin to what someone in law enforcement or a former judge would face."
Fights happen at Bryan, and Holmes will have an easier time in prison if she avoids conflict and obeys prison rules, said Thomas, spokeswoman for The Ladies of Hope Ministries, a support group for currently and formerly incarcerated women and girls. "If you don't get caught up in drama and kind of just keep a straight line and do what you're supposed to do and not break their hundreds of thousands of rules, it's kind of easy to do your time," said Thomas, who was also held in another federal prison in Texas.
If a guard decides a prisoner has broken a rule — by not standing straight enough during a count, for example — the inmate may get a "shot," prison lingo for an infraction. Inmate discipline ranges from loss of phone or family-visit privileges for a time to solitary confinement, advocates said.
A former inmate at Bryan, prisoner advocate Lynn Espejo, described the facilities as noisy and lacking privacy, with a poorly provisioned prison shop.
Inmates at Bryan can have phone and video calls and send and receive emails but are barred from using the internet, Thomas said.
With the Bureau of Prisons feeding each inmate on $3.85 per day, the meals are very "carbo-loaded," Coulman said. The quality of the meals depends heavily on whether the inmates making them are good cooks, Thomas said.
Holmes' daily prison routine likely will involve breakfast, then perhaps walking the "track" around the facility, visiting the library or watching TV, Coulman said. She'll also spend a fair amount of time standing in line to get any medication prescribed to her or to get onto one of the limited number of computer stations to check her email.
Holmes' visits with her fiance, hotel heir Billy Evans, and their children — a newborn and a son just under 2 — will take place in the prison visiting room. Limited physical contact is allowed, with the amount depending on the guards on duty, Thomas said. Kids may be patted down or otherwise searched when they enter, and guards may inspect a diaper to make sure it doesn't contain contraband, they said.
"One of the most traumatizing things is watching small children hanging onto their mom and not understanding why mom can't come with them when it's time to leave," said Espejo, who spent two years in Bryan from 2018 to 2020 for offenses that included money laundering and tax fraud.
Holmes must serve at least 9.5 years of her sentence, and most couples' relationships don't survive long prison terms, Thomas said.
For Holmes, whose adoption of a black turtleneck and claims of a revolutionary technology saw her compared to legendary Apple co-founder Steve Jobs, Davila's decision answers one of the last key questions about her fate that have arisen since the first Wall Street Journal exposé shot cracks through her carefully crafted image in 2015.
Would the negative press coverage harm Theranos after Holmes' relentless hyping of its blood-testing technology drove it to a $9 billion valuation? Yes, fatally. Would Securities and Exchange Commission charges lead to a criminal indictment? Yes, on multiple counts of felony fraud. Would she be found guilty? Yes, of defrauding investors, but not patients. Would she get prison time? Yes, more than 11 years. And now: When will she walk through the prison gates to begin years of incarceration, under Davila's ruling? In a little over two weeks.
Three big questions remain: Will Holmes appeal Davila's surrender-date order as former Theranos president Sunny Balwani, separately tried and convicted of felony fraud before the same judge, did? If she does appeal that decision, will she succeed where Balwani on Friday failed? And finally: Will Holmes' appeal of her conviction and sentence succeed? That's a real Hail Mary — the federal judiciary says the vast majority of such appeals fail.
Lawyers for Holmes, convicted in January 2022 in U.S. district court in San Jose of four counts of defrauding investors, did not immediately respond Tuesday when asked whether she would appeal Davila's denial of her motion to delay her imprisonment.
Robert Weisberg, a professor at Stanford University's law school, said he expected Holmes to appeal and that she would lose, as appellate courts typically defer to lower courts on such matters. Weisberg said Holmes' appeal of her conviction and sentence are also doomed to fail.
"I think she'll have a very hard time winning," Weisberg said. "There aren't any really complicated legal issues that are central to the case. For all the factual complexity of this, in the world of fraud law, this is pretty clear. Lies, deception, deprivation of people's property — there's nothing legally complicated about that."
Davila sentenced her in November but allowed her to stay free until April 27 in a decision legal experts believed was connected to her pregnancy.
A Stanford University dropout who founded Theranos in 2003, Holmes has been free on bail since federal authorities hit her with fraud charges in 2018.
According to the U.S. Bureau of Prisons, the U.S. Marshals Service tells convicted criminals whether to appear at the designated prison or surrender to U.S. Marshals. Female federal prisoners are allowed to bring into prison a plain wedding band, earrings without stones worth less than $100, medical or orthopedic devices, legal documents and ID, and warden-approved religious items that do not pose a security threat.
She will be issued prison clothing that she may supplement with clothes bought at the prison commissary, which are limited in color to pastel green, gray and white.
Davila has yet to issue a decision on whether Holmes must pay restitution for losses from her crimes. Federal prosecutors in a court filing last month asked Davila to order Holmes to repay the full amount of investor losses, which the prosecution tallied at more than $878 million. Davila has pegged investor losses from Holmes' criminal conduct at $381 million. A jury convicted her on counts relating to investor losses of about $144 million. Holmes in a February court filing said she "continues to work on ideas for patents" but "has essentially no assets of meaningful value." In an earlier filing, Holmes' legal team said she "has incurred substantial debt from which she is unlikely to recover."
___
(c)2023 Silicon Valley, San Jose, Calif.
Visit Silicon Valley, San Jose, Calif. at https://www.siliconvalley.com/
Distributed by Tribune Content Agency, LLC.
McClatchy-Tribune News Service