Fugitive since 1968 found after filing for Social Security
Robert Stackowitz was serving a 17-year sentence for robbery in August 1968 when he escaped from a prison work camp infirmary
---
By Dave Collins
Associated Press
HARTFORD, Conn. — A boat repairman well known in his small Connecticut town was exposed this week as a robbery convict who escaped 48 years ago from a prison work camp in Georgia.
Robert Stackowitz's application for Social Security played a role in his capture, authorities said.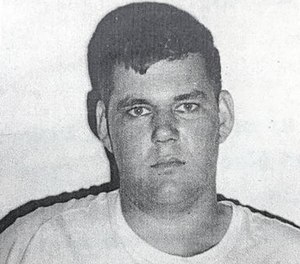 Stackowitz, 71, was arrested Monday by Connecticut state troopers and U.S. marshals at his home in Sherman, a town of about 3,600 along the New York border.
He had been serving a 17-year sentence for robbery in August 1968 when he escaped from the infirmary at a prison work camp in Carrolton, Georgia, the U.S. Marshals Service said. He was charged with robbery by force in 1966 in Henry County, Georgia, according to the Georgia Department of Corrections
A state trooper who works in Sherman, Michael Saraceno, said Stackowitz was cooperative when law enforcement showed up at his house around 8 a.m. Monday.
"He was a little speechless," Saraceno said. "I think it's been so long that I think he reached a point in his head where he thought they would never find him."
Stackowitz, who also went by the alias Robert Gordon, lived alone and ran a boat repair business out of his home, about 2 miles from Saraceno's office, the trooper said. Sherman is located along the northern shores of Candlewood Lake, which is popular among boaters.
Stackowitz was detained Tuesday on $75,000 bail. He's expected to be sent back to Georgia in the coming weeks. He was arraigned in Danbury on Monday and his case was continued to June 6. It wasn't immediately clear if he had an attorney who could comment on the allegations.
Several months ago, Georgia prisons department investigators began taking another look at some of their cold case suspects and discovered in databases that Stackowitz had used his real name in an undisclosed way in Connecticut, said Tony Schilling, supervisory inspector for the Marshals Service's Southeast regional fugitive task force.
Investigators obtained a Connecticut Department of Motor Vehicles photo of Stackowitz a couple of weeks ago, and he looked like the wanted fugitive photographed in custody in Georgia in the late 1960s, Schilling said.
Schilling wouldn't say specifically how Stackowitz's Social Security application figured into his capture.
"If we have an active warrant we don't give up on it," Schilling said. "We're not going to stop looking for someone. I think the longer that these fugitives are (free), they're hoping we're not going to look for them."
Sherman's top elected official, First Selectman Clay Cope, said he would see the man he knew as Bob Gordon at a local grocery store from time to time. The last time was several weeks ago, when Cope said he paid for Stackowitz's groceries, because Stackowitz said he had forgotten his wallet.
"People just knew that he was a motorboat repairman," said Cope, a Republican running for Congress. "This was a very quiet man living in a very quiet town carrying a big secret."
Copyright 2016 The Associated Press