Ind. CO charged with felony after driving car into crowd of protesters
Christa Redman told police that the protesters were "yelling and screaming at her and her children in the truck"
---
By Kim Dunlap
Kokomo Tribune
KOKOMO, Ind. — A former Howard County jail correctional officer who drove into a group of protesters during a Black Lives Matter gathering on Saturday evening at Foster Park has now been charged in the incident.
According to a press release by the Howard County Prosecutor's Office, Christa Redman, 32, Kokomo, was formerly charged with criminal recklessness committed with a deadly weapon, a Level 6 felony, disorderly conduct, a misdemeanor, and leaving the scene of an accident, a misdemeanor.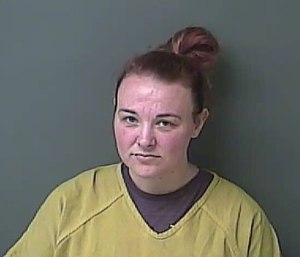 Jail records indicate that Redman surrendered to police and subsequently bonded out of the Howard County jail on a $10,000 cash bond with 10% allowed, having spent 28 minutes inside the facility before she was released on that bond.
Redman resigned from her position with the jail Sunday afternoon, Sheriff Jerry Asher confirmed to the Tribune.
Her charges stem from an incident that occurred around 6 p.m. Saturday as the group of protesters were walking across Washington Street and toward the park after marching through the streets of downtown Kokomo.
According to eyewitness accounts and a video posted on social media, Redman was driving a silver truck and heading southbound on Washington Street before the crash occurred.
While the group was walking across the street, witnesses said that Redman crossed the center line and bypassed the stopped vehicles in front of her, entered the intersection of Superior and Washington streets and eventually struck the crowd before fleeing the scene.
According to a probable cause affidavit, Redman honked the horn at protesters before striking them.
Officers later located Redman at her south side residence a few blocks away, Kokomo Police Department officials stated on Sunday evening.
During her conversation with authorities at her residence, the affidavit noted that Redman told police that the protesters were "yelling and screaming at her and her children in the truck."
Redman also stated that she was "scared for her and her young children's well being and quickly pulled away and left."
The incident injured Deza'Rae Bender, 24, Kokomo, who sustained an injury to her arm and hand, according to KPD.
According to court documents, Bender received those injuries after she grabbed onto the passenger side window of the truck as she was falling to the ground.
A 17-year-old female also told police that she was also struck by Redman's vehicle, and authorities stated that she appeared to suffer an injury to her knee.
Bender and the juvenile female were all part of a peaceful protest that had been taking place at Foster Park on Saturday afternoon in response to the death of George Floyd, a Minneapolis man who was killed last week after a police officer knelt on his neck for approximately nine minutes.
———
©2020 the Kokomo Tribune (Kokomo, Ind.)
McClatchy-Tribune News Service