Iowa inmate captured after killing deputy during escape
Police said Wesley Williams Correa-Carmenaty managed to steal a deputy's gun after he returned from court
---
By Josh Funk 
Associated Press
COUNCIL BLUFFS, Iowa — An inmate shot two sheriff's deputies, killing one of them, and escaped from an Iowa jail on Monday before he was recaptured a short time later following a high-speed chase across the state border in Nebraska.
Pottawattamie County Sheriff Jeff Danker said Wesley Williams Correa-Carmenaty, 23, managed to steal a sheriff's deputy's gun after he returned from court and shot the two deputies around 11 a.m.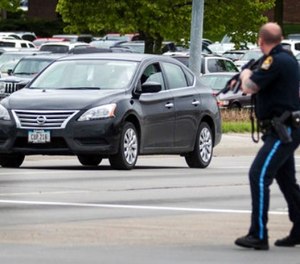 Then Correa-Carmenaty stole the transport van and crashed through a garage door at the Pottawattamie County Jail in Council Bluffs, which is just across the Missouri River from Omaha, Nebraska.
Danker said it's a tragedy that 43-year-old Mark Burbridge died shortly after noon at an Omaha hospital. The other wounded deputy and a civilian who was shot during a failed carjacking were both in fair condition at a different Omaha hospital.
"He was an excellent man. We're going to miss him," Danker said.
Authorities are still working to determine how Correa-Carmenaty obtained the gun and whether he had been able to free himself from his shackles during the ride back from court. One other inmate was in the van, but Danker said he didn't believe she was involved.
After escaping the jail, Correa-Carmenaty tried to steal a pickup truck and shot the driver, but continued on in the jail van.
Then in a neighborhood about two miles away, Correa-Carmenaty took a woman's car at gunpoint and drove to Omaha where he dropped her off at a liquor store.
The suspect was recaptured after crashing during a high-speed chase. When he was arrested, authorities said Correa-Carmenaty's hands were free, and police found a gun in the car.
Correa-Carmenaty was sentenced Monday to 45 years in prison for his role in a botched robbery in March 2016. He had pleaded guilty in January to voluntary manslaughter, attempted murder and two counts of robbery in connection with the slaying of 22-year-old Anthony Walker.
Pottawattamie County Attorney Matt Wilbur said he regretted making a deal with Correa-Carmenaty even before the deadly escape because of the lack of remorse he showed.
Wilbur said Correa-Carmenaty was "cold and flat" during the hearing.
Correa-Carmenaty is being held in Omaha on suspicion of kidnapping, fleeing to avoid arrest and using weapons. But Wilbur said he will work to bring him back to Iowa to prosecute him on charges of first-degree murder and attempted murder.
Before Monday's escape, there had been only three Pottawattamie County Sheriff's deputies killed in the line of duty since 1848. The most recent death was in 1981.