N.C. inmate sentenced to 10+ years for seriously injuring detention officer
The attack left Officer Sheldon Kaminsky, 71, hospitalized in intensive care and on a ventilator
---
By Annette Ayres
News & Record
        
GREENSBORO, N.C. — An inmate who assaulted a detention officer last summer will serve more than 10 years in prison after pleading guilty Monday to charges in connection with the case, Guilford County Assistant District Attorney Chris Parrish said after the court proceeding.
Superior Court Judge Lora C. Cubbage sentenced Elijah J. Evans to serve from 10 years and six months up to 15 years and five months in prison, the maximum sentence allowed under the law, Parrish said.
On June 17, the 21-year-old inmate approached a desk where Sheldon Kaminsky, 71, was seated while on duty in an inmate housing pod. After a brief conversation, Evans moved behind the desk and struck Kaminsky with his fist, knocking him to the floor and leaving him unconscious, according to the Guilford County Sheriff's Office.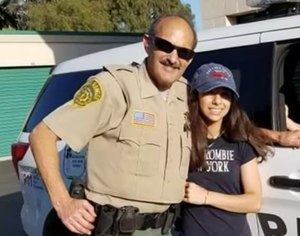 Kaminsky's supervisor in a neighboring room saw the attack and entered the pod to remove Evans, the sheriff's office said.
Kaminsky was hospitalized in intensive care for a period of time and still suffers from a traumatic brain injury, Parrish said. Members of the Guilford County Sheriff's Office and fellow detention officers were in court Monday to support Kaminsky's wife, who spoke on his behalf; he did not attend.
Prior to the assault on Kaminsky, Evans was jailed June 2 on robbery and assault charges involving an incident on a basketball court. On Monday, Evans also pleaded guilty to two charges in that case.
"There was no plea arrangement. No charges were reduced. There were no concessions by the state," Parrish said.
Parrish said "intent to kill" was added to the original charge of "assault with a deadly weapon inflicting serious injury." Evans also faced a charge of assault on a detention facility employee inflicting serious injury.
Parrish added two other charges, including assault inflicting serious bodily injury and another charge that takes into account prior assault(s).
According to the sheriff's office, hands and fists can be deemed a deadly weapon under state law when there is a significant difference in the physical stature of the victim and the assailant.
At the time of the assault, Kaminsky had served with the sheriff's office for three years and had about 30 years of service in law enforcement.
 
(c)2022 the News & Record (Greensboro, N.C.)
McClatchy-Tribune News Service