Public looks to Minn. judge in nation's biggest ISIL recruitment case
"This judge has the ability for the first time to set up some kind of coherent rationale for a spectrum of sentences — because nobody has handled a case of this size"
---
By Stephen Montemayor
Star Tribune 
MINNEAPOLIS — Few judges have seen a greater share of the nation's terrorism cases than Senior U.S. District Judge Michael Davis. And no one connected to his cases -- not the defendants, not their attorneys, not any expert witnesses -- has escaped the investigative intensity he brings to bear in his Minneapolis courtroom.
This week Davis will turn that spotlight to the fates of nine young Somali-Americans -- defendants who were caught in the FBI's probe of terrorist recruiting in Minnesota and convicted of plotting to join the Islamic State of Iraq and the Levant (ISIL).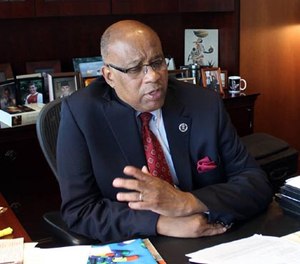 Over three days, Davis will issue sentences in a federal courthouse likely to be packed with impassioned relatives and spectators from the local Somali community. But he will also have a wider audience waiting for the latest word from a judge who has placed Minnesota in the global discussion on how to combat homegrown terrorism and how to handle young, would-be foreign fighters.
"This judge has the ability for the first time to set up some kind of coherent rationale for a spectrum of sentences -- because nobody has handled a case of this size," said Karen Greenberg, director of the Center on National Security at Fordham University School of Law. "This has the possibility to set up some kind of template for others to use."
Davis, a former chief judge known for his towering frame and imposing curiosity, has been known to research issues deep into the night and traveled overseas to study anti-terror programs. Yet even he concedes the difficulty in understanding terrorist recruitment.
"I hope everyone understands that this is a new frontier," Davis said in an interview. "No way should anybody think I have all the answers; I have a lot of questions."
Davis has presided over every Minnesota terror conspiracy case, from Al-Shabab to ISIL, yet this week's sentencings possess a new tenor. The government is pushing for steep penalties, calling ISIL "one of the most vicious and dangerous terrorist organizations in modern times."
The sentences will also be the first since, in an effort to better understand the mind-set of would-be terrorists, Davis introduced the nation's only terrorism "disengagement and de-radicalization" program earlier this year. He settled on the program after meeting in Germany late last year with Daniel Koehler, a young de-radicalization scholar who had long counseled neo-Nazis and their families, hoping he could shed light on Minnesota's latest group of terrorism defendants.
Soon after, Davis had Koehler evaluate six of the nine Minneapolis defendants, hoping he could render an opinion on the men's risk of reoffending and any paths to rehabilitation.
"We are trying to figure out who these individuals are and how to sentence them," Davis has said.
The judge also asked prosecutors to analyze sentences imposed in similar cases around the country. The government's final report to Davis found that 26 defendants since June 2014 have been sentenced to between four and 40 years in prison, or roughly 16 years on average.
Koehler concluded that some of the Minnesota defendants showed "cognitive openings" that could make them amenable to counseling, while others still posed a high risk of recidivism. But no one close to the case is willing to guess how much weight Davis will give Kohler's analysis.
"I want to make clear to everyone: I don't have to believe anything that you've said," Davis told Koehler during a hearing last September. "We're finding our way in dealing with these issues."
Deterring others
The Minnesota defendants fall loosely into three groups: two who pleaded guilty and cooperated with the government; four who pleaded guilty but didn't work with prosecutors; and three who fought the charges at trial.
Hamza Ahmed, 21, falls into the second group. A U.S.-born child of Oromo refugees, he became entranced by ISIL propaganda online as he babysat three younger siblings while his mother worked nights at a bakery. His attorney now says his removal from a flight bound for Turkey in November 2014 likely saved his life. Zacharia Abdurahman, also 21, helped his father write Somali children's books designed to help children integrate into Western society. He was turned away from the same New York airport as Ahmed, and now wants to mentor children away from the path he considered.
Their attorneys are recommending sentences that could include release to a halfway house and mentoring by local community members. But the government is asking for 15-year sentences for the public's safety and to deter other prospective recruits.
Prosecutors are seeking longer sentences for the three who went to trial and were also convicted of conspiracy to murder abroad: a 40-year sentence for Guled Omar, and 30-year sentences for Mohamed Farah and Abdirahman Daud. They point to an "atmosphere of intimidation, harassment, and incipient violence" throughout the trial, even in their briefs on those who pleaded guilty.
For the two defendants who helped the prosecution -- Abdullahi Yusuf and Abdirizak Warsame -- prosecutors have proposed reduced sentences.
Still, the government is asking for harsher sentences than in similar Al-Shabab cases, partly because of the increased danger they say ISIL poses, based on recent terror attacks here and in Europe. "They're making a very visceral argument," said Andrew Birrell, an attorney for Hanad Musse.
In addition to assessing six of the local defendants, Koehler trained U.S. probation staff on supervising convicted terrorists after they leave prison. But he warned that some of his conclusions hinge on the men getting specialized counseling if imprisoned -- something U.S. federal prisons lack. Prosecutors acknowledged as much in recent court filings, adding that they "will of course not stand in the way of ... any programming" that would reduce any safety threats posed to the public.
A nobody, or a martyr?
Davis' decisions will also be scrutinized by Twin Cities Somalis and other local supporters, who are calling for an alternative to long prison sentences.
On the same day she became the nation's first Somali-American lawmaker, Ilhan Omar wrote a letter to Davis urging "a restorative approach to justice" instead of "essentially a life sentence."
"Such punitive measures not only lack efficacy they inevitably create an environment in which extremism can flourish -- aligning with the presupposition of terrorist recruitment: 'Americans do not accept you and continue to trivialize your value. Instead of being a nobody, be a martyr.' "
But Davis, a veteran of national security issues through his service on the federal Foreign Intelligence Surveillance court, has sought to remind defendants that sentencing law adds heft to terrorism cases.
"This community -- people are starting to think these are misdemeanors," he said.
Greenberg, who is watching ISIL-related cases across the country, said Davis' decision will draw international scrutiny over how jurists deal with ideological extremists.
"If they don't have counseling in prison and are only privy to whatever kind of radicalization that can come about ... they're going to come out hardened criminals," Greenberg said. "This might be the most important contribution in terms of setting up a sentencing rationale and dealing with what will happen in prison to these individuals."
She also said the nine judgments Davis will make will "signal the costs and benefits of cooperation, plea deals and choosing to go to trial."
Minneapolis attorney Bill Manning has known Davis for more than 40 years and still recalls being struck by Davis' empathy while he a young trial lawyer.
"I am positive each one of these defendants will receive hours and hours and hours of his attention, thinking, struggling, and sleepless nights," Manning said. "Because he wants to do the right thing by way of them, by way of their family, by way of society."
But as Davis considers this "new frontier," he also recognizes that federal sentencing guidelines, affirmed by appellate judges, hold terrorists as "unique in their likelihood of recidivism, the difficulty of rehabilitation, and the need for incapacitation."
"I have a mandate coming from Congress that takes this to a different level," Davis said. "You can't compare this to Germany, France or Belgium. ... You can't say 'They're wannabes' or 'Well, they never made it out of the country.' "