Quadruple murder suspect booked into Idaho jail
Bryan Kohberger's housing classification, after extradition from Pennsylvania, is being determined by Latah County Jail staff
---
By Alex Brizee
Idaho Statesman
PULLMAN, Wash. — Quadruple homicide suspect Bryan Kohberger is in Idaho in the Latah County Jail.
The Washington State University graduate student — who faces first-degree murder charges in the killing of four University of Idaho students — arrived at the Pullman-Moscow Regional Airport in Washington at 6:24 p.m. Pacific time, according to ADS-B Exchange, a flight data website.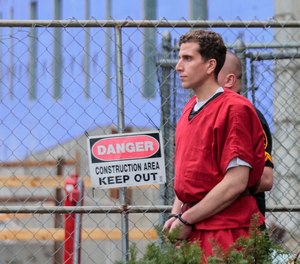 A convoy of police vehicles, one of them transporting Kohberger, arrived at the Latah County Jail in Moscow just before 7 p.m., driving past a bevy of media representatives, including an Idaho Statesman reporter.
The Moscow Police Department said in a news release Tuesday that it wouldn't be sharing the details of Kohberger's transportation publicly because of security concerns.
Monroe County Correctional Facility Warden Garry Haidle told the Statesman by email on Wednesday morning that Kohberger was no longer at the northeastern Pennsylvania jail and was in the custody of Pennsylvania State Police, who declined to comment.
A Pennsylvania State Police plane traveled roughly 2,500 miles to Pullman from Scranton, Pennsylvania, according to the flight website. Kohberger was taken out of the Pennsylvania jail at 6:28 a.m. Eastern time, online jail records showed. Throughout the cross-country trek the plane made stops in Champaign, Illinois, and Rapid City, South Dakota.
It wasn't until about 15 hours after departing Pennsylvania that Kohberger was in Pullman, home to Washington State University, and then en route to the jail in Moscow, where he'll be housed as his case goes through the criminal justice system.
Latah County Sheriff Richard Skiles, in a statement provided to KTVB, said Kohberger's housing classification would be determined after he's evaluated by staff. Skiles declined to answer general questions from the Statesman about how housing at the jail works — citing a judge's Tuesday nondissemination order specific to Kohberger's case — and the sheriff's office didn't return an email asking for the statement.
The jail can hold up to 37 people at one time and had 22 occupants as of Wednesday, according to Court TV and jail records.
Kohberger was arrested last Friday by Pennsylvania State Police at his parents' house in Chestnuthill Township in the Nov. 13 killing of four students at a house just off the University of Idaho campus: seniors Madison Mogen, 21, of Coeur d'Alene, and Kaylee Goncalves, 21, of Rathdrum; junior Xana Kernodle, 20, of Post Falls; and freshman Ethan Chapin, 20, of Mount Vernon, Washington.
Kohberger waived his extradition rights during a hearing in Monroe County on Tuesday. His temporary attorney in Pennsylvania for that proceeding, Monroe County Chief Public Defender Jason LaBar, said Kohberger was "eager to be exonerated."
"Mr. Kohberger has been accused of very serious crimes, but the American justice system cloaks him in a veil of innocence," LaBar said in a statement he provided to the Statesman on New Year's Eve.
"He should be presumed innocent until proven otherwise — not tried in the court of public opinion. One should not pass judgment about the facts of the case unless and until a fair trial in court at which time all sides may be heard and inferences challenged."
Kohberger could have his initial appearance before 2nd District Magistrate Judge Megan Marshall as soon as Thursday at the Latah County Courthouse. Latah County Sheriff's Deputy Matt Stinebaugh told a Statesman reporter that the courthouse would reopen at 7:15 a.m. Pacific time Thursday.
During that appearance, Marshall will explain Kohberger's rights and the five felony counts against him: four counts of murder in the first degree and a burglary charge for allegedly entering the King Road home with the intent to commit murder.
The charging documents against Kohberger, which could contain additional details about the crime and how police identified the grad student as the suspect, likely will then be unsealed. Marshall issued what is typically known as a gag order that prohibits investigators, law enforcement personnel and attorneys — both the prosecution and defense — from communicating with the media and public about the case.
The gag order is not expected to affect public records, such as court documents.
"As stated in the order itself, this applies to the parties of the case, not the records of the case," Idaho Judicial Branch spokesperson Nate Poppino told the Statesman in a phone interview Tuesday night. "We talk fairly regularly about, 'The court speaks through its records.' This is setting up the record ... to be the source of information of the case."
———
(Idaho Statesman reporters Shaun Goodwin, Sally Krutzig and Angela Palermo contributed.)
———
©2023 Idaho Statesman.
Visit at idahostatesman.com.
Distributed by Tribune Content Agency, LLC.
McClatchy-Tribune News Service