Sheriff: ICE was 'mistakenly' allowed to see inmates at Calif. jail
In the wake of the policy violation, the Sheriff's Office said jail deputies and staff were re-briefed of the sanctuary policies
---
By Robert Salonga
The Mercury News
SAN JOSE, Calif. — Santa Clara County Sheriff Laurie Smith acknowledged Tuesday that federal immigration agents were "mistakenly" allowed to interview jail inmates earlier this month in violation of the county's sanctuary policies, around the same time a similar headline-grabbing incident occurred in San Francisco.
Immigration and Customs Enforcement agents were let inside the Main Jail in San Jose and Elmwood men's jail in Milpitas on March 7 and 8, the Sheriff's Office said. They interviewed four inmates, but did not detain anyone.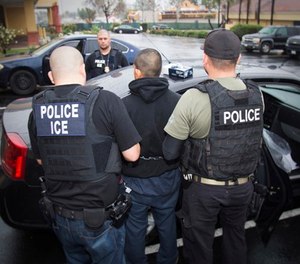 It was unclear why the inmates were selected and contacted, but federal authorities described the interviews as a routine part of the Criminal Alien Program that targets undocumented residents with criminal records.
The entry revelation, first reported by the San Francisco Chronicle, raised the hackles of immigration advocates and prompted contrition from Smith who described it as an oversight, rather than a rogue move by jail staff upset with the county's stance against direct cooperation with ICE.
"The County of Santa Clara has a policy of not cooperating with ICE operations," Smith said in a statement. "The Sheriff's Office does not accept ICE holds and has a longstanding policy of not allowing ICE agents access to our custody facilities. Unfortunately, a few weeks ago staff mistakenly permitted ICE entrance into our jail. Inmates were interviewed, but none were detained by ICE."
In the wake of the policy violation, the Sheriff's Office said jail deputies and staff were re-briefed of the sanctuary policies, which were developed with the aim of maintaining trust in immigrant communities and ensuring residents are not afraid to report crimes. Officials said fliers affirming the policies were posted in high-traffic areas for staff, inmates, and visitors to see.
"We value the trust and rapport we've earned with our local immigrant community and we will not break that trust," Smith said.
Smith's statement was reminiscent of the about-face offered by San Francisco Sheriff Vicki Hennessy when it was revealed earlier this month that ICE agents accessed that city and county's jails March 8.
Smith said her agency has revamped entry procedures for police and law enforcement at the county jails, including separating them from the general sign-in procedures, requiring them to more explicitly identify themselves, and more fully explain who they're visiting and why to jail staff.
Still, immigration advocates who have been working around the clock to advise and protect undocumented residents and their families were distressed by the ICE agents' recent access.
"It's particularly shocking that this may have occurred in Santa Clara County jails as our local policy clearly states that, absent a criminal warrant, ICE cannot be given access to individuals or use county facilities for interviews," said Maricela Gutiérrez, executive director of the Services, Immigrant Rights, and Education Network.
Gutiérrez added that it only causes confusion for the immigrant communities that South Bay law enforcement like the Sheriff's Office and the San Jose Police Department have worked to convince that they do not enforce immigration laws. State law also prohibits ICE interviews with inmates without their prior written consent.
"Not only may the jail have violated its own policy, it has only deepened mistrust with local law enforcement and how the county communicates with ICE about those apprehended," she said.
The Sheriff's Office also noted that immigration agents tried to enter a county jail facility on March 14 and were denied. Agents tried again Monday, she said, by attempting to enter at two separate points of the same facility, but were also rebuffed. Officials said that the frequency of their presence in the past month was "unusual."
The ICE visits that violated the county's sanctuary policies also happened at the same time U.S. Attorney General Jeff Sessions visited Sacramento, a visit during which he roundly rejected the sanctuary policies of Bay Area communities including San Francisco, Santa Cruz and Alameda Counties as well as Oakland and San Jose.
ICE Deputy Director Thomas D. Homan has similarly excoriated Bay Area and California leaders for their sanctuary stances.
"Sanctuary policies, which have pushed ICE out of jails, force our officers to conduct more enforcement in the community — which poses increased risks for law enforcement and the public," Homan said in a statement released Tuesday.
"It also increases the likelihood that ICE will encounter other illegal aliens who previously weren't on our radar. It is nonsensical to demand that ICE solely focus on criminals, while simultaneously preventing ICE from arresting criminal aliens inside the secure confines of local jails."
Start your day with the news you need from the Bay Area and beyond.
Sign up for our new Morning Report weekday newsletter.
The Sheriff's Office said the ICE agents likely were allowed entry in early March because jail deputies deferred to law-enforcement officers as part of routine courtesy without immediately realizing why they were there.
Amy Le, president of the Santa Clara County Correctional Peace Officers' Association, said jail deputies and staff were not trying to circumvent sanctuary policies. In making her plea, she cited her own experience as an immigrant and the diversity of the correctional staff.
"Nobody intentionally tried to help ICE," she said. "We take our jobs and inmates' rights seriously. We have so many people visiting, that human error does happen. We made a mistake, and we'll learn from it."
Le echoed Smith's statement in declaring that jail staff has "tightened up on traffic and people coming in to visit," and asked for the public's patience when this new diligence causes delays in admitting jail visitors.
"Visitors may get upset, but protection of inmate rights and state law is very important to us," she said. "We honor the law. It doesn't matter if you're an inmate or visitor, we do our best to protect everyone."
The sanctuary policy snafu provided more fodder for those who have questioned Smith's running of the jails, which has come into particular focus since the 2015 beating death of mentally ill inmate Michael Tyree, which led to murder convictions for three jail deputies. The county has since approved the creation of an independent monitor to audit and evaluate jail and Sheriff's Office operations.
Among those critics is retired undersheriff John Hirokawa, who as Smith's second-in-command was once chief of the Department of Correction. He seized on the news to fuel his bid to unseat his former boss's run at a sixth term in June.
"Laurie Smith has asked us to overlook similar breaches of trust as 'a mistake', 'human error', and 'non-intentional,' " Hirokawa said in a statement. "In doing so, her reactionary leadership has diminished the standard of behavior across the department."
©2018 the San Jose Mercury News (San Jose, Calif.)