Texas inmate escapes, leads cops on 100 mph pursuit
Officials say Brandon Viator, 46, removed leg shackles during transport, drove away with mother
---
By C1 Staff
BASTROP, Texas — An inmate who escaped custody and led police on a 100 mph pursuit has been apprehended.
According to the Statesman, Brandon Viator, 46, was being escorted to the Lee County District Court on Tuesday morning when he removed a leg shackle and fled. According to the Lee County Sheriff's office, he then got into a white Toyota Tacoma pickup and drove 15 minutes before stopping at a convenience store to drop off a passenger.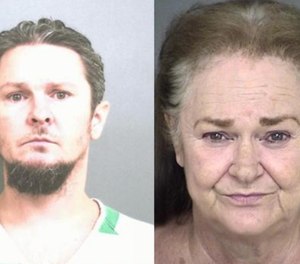 Authorities later identified the passenger as Madge Viator, his mother and the owner of the vehicle.
Viator then led police on a pursuit that reached speeds over 100 mph and ended about 20 minutes later when Viator drove over spike strips deployed by the Bastrop Police Department. Authorities said Viator exited the vehicle with a rifle in hand before being apprehended.
Officials said Viator will be charged with escape and could face up to 10 additional years in prison. At the time of his escape, he was serving a sentence for violating probation related to deadly conduct charges and an unlawful possession of a firearm by a felon charge.
Madge Viator, 66, could face up to 10 years in prison for permitting or facilitating an escape.