Va. jail escapee captured after seeking medical help
The inmate who was "injured and in poor health," surrendered to police and asked for medical treatment, the officials said
---
By Associated Press
FARMVILLE, Va. — A second inmate who escaped from a Virginia jail last week was apprehended Monday after he showed up at a local university and asked for medical assistance.
The inmate, identified by jail officials as Bruce Callahan, was detained by Longwood police after he walked into Lancer Park — a 50-acre (20-hectare) residential community owned by Longwood University — and pulled an outdoor fire alarm, university officials said in a statement.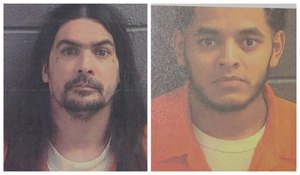 Callahan, who was "injured and in poor health," surrendered to police and asked for medical treatment, the officials said. School officials did not disclose the nature of his injuries. Farmville police assisted in the arrest.
Callahan and another inmate escaped from the Piedmont Regional Jail in Farmville on April 30. The other inmate, 26-year-old Alder Marin-Sotelo, was captured in Mexico on Thursday. Marin-Sotelo is charged in the 2022 killing of a North Carolina sheriff's deputy. Callahan was being held on federal drug and weapons charges.
Both Marin-Sotelo and Callahan were federal detainees with no affiliations to the area, the sheriff's office said.