San Quentin protesters, inmates call for prison reform
Crowd of 300 rallied outside prison to support inmates in nationwide strike
---
By Richard Halstead
The Marin Independent Journal
MARIN COUNTY, Calif. — Marin residents joined a crowd of about 300 in a rally outside San Quentin State Prison on Saturday to support inmates nationwide who began a two-week strike Tuesday.
Bilal Ali, a spokesman for the Bay Area National Prison Strike Solidarity Committee, which organized the rally, said prisoners are striking for "humane living conditions, access to rehabilitation, sentencing reform and the end of modern day slavery."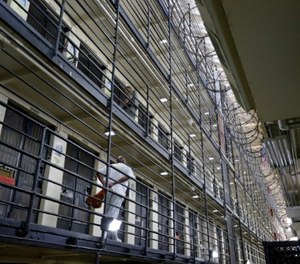 Prisons in at least 17 states across the country were participating in the protests. Planned actions include work strikes, sit-ins, boycotts and hunger strikes.
One of the motivations for the strike was a prison riot in April at Lee Correctional Institution, a maximum-security prison in South Carolina. Seven prisoners were killed and dozens more injured during the melee.
The strikers timed the action to begin Tuesday because that is the anniversary of the killing of jailed Black Panther George Jackson. The jailed African-American activist was killed in 1971 after taking guards and two inmates hostage in an attempt to escape from San Quentin.
One of the Marin residents attending the rally was Steve Bingham of San Rafael, who was tried and acquitted in 1986 for his alleged role in Jackson's escape bid. Bingham was accused of concealing a pistol in a tape recorder and smuggling it to Jackson.
Bingham said Friday that he was attending the rally to show his solidarity with prisoners across the country and to honor the memory of all those who died at San Quentin in 1971. In addition to Jackson, three prison guards and two inmates were killed during the foiled escape attempt.
"We have the highest incarceration rate in the world," Bingham said. "Everyone agrees that with the high recidivism rates that prison is not a good solution for sentencing. There are lots of other better and much cheaper alternatives."
Alan Barnett of Mill Valley, a longtime human rights and peace activist who worked on Bingham's defense committee in 1986, said he was attending Saturday's rally.
"The national prison strike should help bring attention to some of the worst problems at the state prisons," Barnett said.
Barnett, however, said more attention also needs to be paid to the disproportionate number of African-Americans in Marin County's jail.
Among the demands issued by the national prison strikers is "an immediate end to the racial overcharging, over-sentencing and parole denials of black and brown humans."
Ali said another demand at the top of the strikers' list is payment of prevailing wages for prison labor.
"Prisons are the new plantations," Ali said. "Prisoners are working for 3 cents a day or no pay at all, and they are performing very important functions not just in the prisons but outside too."
He noted that some of the firefighters battling California's wildfires are prison inmates.
The strikers are also demanding increased funding for rehabilitation services and better treatment for mentally-ill prisoners.
"Prisons are being used as repositories for people who are suffering from mental incapacities," Ali said. "Prisons are hostile places. They are the last place you want to put a person with mental health problems."
Bingham said, "They are very pragmatic demands. They are actually quite reasonable."
Ali said the prison strike is evidence of an emergent movement for human rights for prisoners.
"We haven't seen anything like this since George Jackson and Attica," Ali said.
The strike is scheduled to end on Sept. 9, the 47th anniversary of the uprising at Attica Correctional Facility in Attica, New York, which occurred two weeks after the killing of Jackson on Sept. 9, 1971. At least 10 correctional officers and 33 inmates died after 2,200 inmates rioted and took control of the prison.
Vicky Waters, a spokeswoman for the California Department of Corrections and Rehabilitation, wrote in an email, "There have been no reported incidents, and no indications that any California state prison inmates have participated in the national strike."
Waters said there were no planned changes to inmate programming, visiting or volunteering due to Saturday's rally.
McClatchy-Tribune News Service