Ark. parole board suggests mercy for 1 of 8 due to die
The board said the governor should spare Jason McGehee's life, but did not offer a reason for the recommendation
---
By Kelly P. Kissel 
Associated Press
LITTLE ROCK, Ark. — Arkansas' parole board on Wednesday recommended that Gov. Asa Hutchinson extend mercy to one of eight inmates scheduled to die in an unprecedented series of double-executions this month.
Hutchinson, a Republican, is not bound by the board's recommendation. The board, in a 6-1 vote, said Hutchinson should spare Jason McGehee's life, whose execution is set for April 27 in the death of 15-year-old Johnny Melbourne Jr.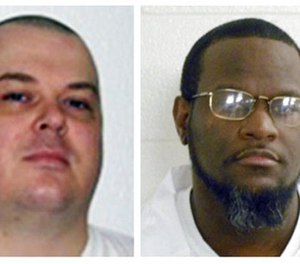 The board did not offer a reason for the recommendation, but former Department of Correction Director Ray Hobbs spoke in favor of clemency for McGehee, 40, at a hearing last week, saying he'd gotten to know the inmate while making his rounds in prison.
"He has learned his lesson, and he still has value that can be given to others if his life is spared," Hobbs said.
The board's chairman, John Felts, was the lone dissenting vote. He said McGehee's death sentence wasn't excessive considering the inmate had directed the torture and strangulation death of Melbourne, who had told police about a northern Arkansas theft ring.
With a key lethal injection drug expiring at the end of the month, Arkansas hopes to execute eight men in a 10-day period beginning April 17. Only Texas has executed that many inmates in a month, doing it twice in 1997. Seven executions in a month would still be a record for Arkansas.
Co-defendants said McGehee did most of the beating when Melbourne was killed Aug. 19, 1996. Several people beat and tortured the teenager at a house in Harrison, then bound him and drove him to an abandoned farmhouse outside Omaha, a town in northern Arkansas. He was later strangled while his hands were tied with an electrical cord.
In a separate decision, the board says a petition by Kenneth Williams was without merit. Williams was condemned after escaping and killing a man who lived near the prison. Before his escape, he was serving a life term for killing at University of Pine Bluff cheerleader.