Arkansas execution case could lead court to revisit Oklahoma
Lawyers for eight death row inmates in Arkansas say their challenge of the state's execution procedures should warrant a U.S. Supreme Court review
---
By Kelly P. Kissel
Associated Press
LITTLE ROCK, Ark. — Lawyers for eight death row inmates in Arkansas say their challenge of the state's execution procedures should warrant a U.S. Supreme Court review that would likely revisit the high court's ruling on an Oklahoma case.
The Arkansas Supreme Court ruled against the prisoners last month, but the inmates' lawyers want the court to withhold a final order pending a possible U.S. Supreme Court review.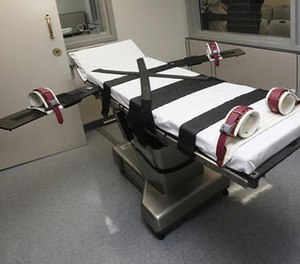 The office of Arkansas Attorney General Leslie Rutledge filed papers Thursday saying there are no federal issues at stake that could prompt a look by the nation's highest court and asked the state court to allow the inmates' executions to be carried out. However, in court papers filed late Monday, the inmates' lawyers said justices may want to look again at a challenge to the surgical sedative midazolam that Oklahoma inmate Richard Glossip filed. Oklahoma uses a three-drug protocol, starting with midazolam.
Glossip was hours away from his scheduled execution last September when prison officials realized they had received potassium acetate, not potassium chloride. A separate review revealed that another inmate, Charles Warner, was given potassium acetate instead of potassium chloride as one of three drugs when he was put to death in January of last year.
When upholding Arkansas' execution protocol, the Arkansas Supreme Court cited the Glossip case.
"Glossip has resulted in unmitigated disaster in Oklahoma," the Arkansas inmates' lawyers wrote Monday. "Since the Supreme Court approved of the midazolam protocol there, Oklahoma authorities have shown that they cannot properly carry out the protocol.
"Oklahoma executed one prisoner with the wrong drug in January 2015 ... and it almost executed another with the wrong drug before a member of the execution squad caught the error hours before the injection was to occur," the attorneys added in their court filing. "This state of affairs gives the U.S. Supreme Court a good reason to revisit Glossip."
The inmates will be at risk of dying in an excruciating manner in violation of their constitutional rights if they're allowed to be executed, their lawyers say.
Oklahoma officials didn't immediately return phone calls or emails seeking comment.
Judd Deere, a spokesman for Arkansas' attorney general, declined comment Tuesday regarding the inmates' court filing.
Arkansas has not executed a prisoner since 2005, as inmates challenged various procedures and drug companies withheld their products amid concerns they'd be targeted by protests or boycotts. State legislators last year said prison officials could keep many of their execution procedures secret, including the names of their drug suppliers. The Arkansas Supreme Court upheld the law last month.
Before the ruling could take effect, the state's supply of the paralytic vecuronium bromide expired. Prison officials have since obtained additional doses, but another of Arkansas' lethal drugs, potassium chloride, expires in January.
In its court filing Thursday, the state said the Arkansas Supreme Court should dissolve the stays of execution for the eight men so their lethal injections could proceed before January. The inmates' lawyers said in their filing that the January deadline is no longer critical if Arkansas has found a drug supplier.
Copyright 2016 The Associated Press