Judge: Current execution drugs may break Miss. law
Judge said the sedatives the state plans to use don't align with what's required by Mississippi law
---
By Jeff Amy
Associted Press
JACKSON, Miss. — A federal judge said that he blocked executions in Mississippi because the sedatives the state plans to use don't align with what's required by Mississippi law.
U.S. District Judge Henry T. Wingate, in an order issued Wednesday, wrote that without prejudging the case, Mississippi doesn't plan to use a drug meeting the legal requirement to render a person unconscious almost immediately.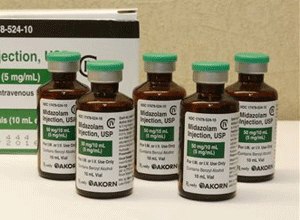 "The court finds that plaintiffs have shown a substantial likelihood in prevailing, at least, on their claim that Mississippi's failure to use a drug that qualifies as an 'ultra short-acting barbiturate or other similar drug' as required by (state law) violated Mississippi statutory law and the due process clause of the 14th Amendment of the U.S. Constitution."
Wingate issued the order verbally to lawyers Tuesday. He wrote that a more extensive ruling would follow, and told the state to seek his approval before trying to use any other drug.
"In granting the plaintiffs' motion for temporary injunctive relief, this court is not forecasting any ultimate ruling on the merits," Wingate wrote.
Attorney General Jim Hood immediately filed notice that the state would appeal to the 5th U.S. Circuit Court of Appeal, backed by Gov. Phil Bryant.
The state of Mississippi will exercise its full legal rights to ensure that crime victims and their families receive the justice they deserve and that perpetrators of heinous crimes do not go unpunished," Bryant said in a statement.
Mississippi law requires a three-drug process, with the sedative followed by a paralyzing agent and a drug that stops an inmate's heart. Through late 2010, Mississippi and all other states used sodium thiopental as the barbiturate, according to records maintained by the Death Penalty Information Center. After a manufacturer stopped selling it for executions, Mississippi used a centrally-manufactured version of pentobarbital, called Nembutal, in eight executions in 2011 and 2012. But Nembutal's manufacturer also cut off use in executions.
Mississippi then bought pentobarbital mixed to order by a pharmacist. In legal papers, the state said it destroyed that supply and now intends to use another sedative, midazolam, after the U.S. Supreme Court approved the drug's use in Oklahoma.
Midazolam was used in executions in Arizona, Ohio and Oklahoma that went on longer than expected asinmates gasped and made other sounds.
Three death row inmates suing Mississippi before Wingate say using either pentobarbital or midazolam is illegal under state law, because they don't act quickly enough. The suit says there's no guarantee Mississippi can mix a safe and effective anesthetic to knock out prisoners. Prisoners say they face risks of excruciating pain and torture during an execution, and that such pain violates the U.S. Constitution's Eighth Amendment prohibition against cruel and unusual punishment.
Wingate's order is already being used in other efforts to stall executions. In a similar case Wednesday before a state court in Montana, attorneys for that state's two death row inmates invoked Wingate's injunction to support their argument against pentobarbital.