Man set for execution in 1995 murder of Tulsa woman
Jemaine Cannon, 51, is set to become Oklahoma's second executed death row inmate on July 20 at the Oklahoma State Penitentiary in McAlester
---
By Derrick James
McAlester News-Capital, Okla.
McALESTER, Okla. — A man who sat on Oklahoma's death for 27 years is scheduled to be executed.
Jemaine Cannon, 51, is set to become Oklahoma's second executed death row inmate on July 20 at the Oklahoma State Penitentiary in McAlester, barring any last-minute court filings and decisions.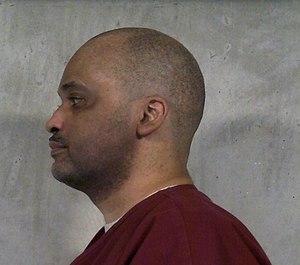 Cannon will be the ninth person killed by Oklahoma since the state resumed executions in October 2021 following a nearly seven-year moratorium.
A Tulsa County jury in 1996 sentenced Cannon to death for the 1995 murder of Sharonda Clark.
Court records state Cannon escaped from prison after he stole a pickup owned by a southwest Oklahoma school district and drove to Tulsa and was being harbored by Clark.
Clark was found by Tulsa Police deceased on the bathroom floor in her residence with numerous stab wounds and a blood trail from a bedroom.
Police went to Clark's residence after her grandmother filed a missing person's report after she didn't pick up her kids from daycare.
Cannon fled Oklahoma and was arrested in Michigan for Clark's murder and extradited back to face trial.
Attorneys for Cannon argued he stabbed the woman in self-defense following a brief argument.
Cannon argued it was Clark that came at him with a knife first and he suffered a cut to his hand and after a struggle, Cannon said he gained control of the knife and blindly swung the knife at Clark.
Police reports state no defensive wounds "were noticeable" on Cannon after his arrest.
The Oklahoma Pardon and Parole Board voted 3-2 to deny clemency for Cannon in June.
Attorneys for Cannon told the Board their client suffers from stage three Sarcoidosis that affects his eyes, lungs, liver, spleen bones and skin.
"He has wondered if his rapidly deteriorating body will kill him before the government can," Mark Henrickson, Cannon's attorney told the board. "I urge you to consider a grant of clemency."
Cannon's attorneys argued that not only should Cannon's life be spared, but he should be free.
Oklahoma Attorney General Gentner Drummond said Cannon did not deserve mercy before the office argued its case against clemency.
"Her family has waited 28 years for justice," Assistant Attorney General Joshua Fanelli told the board. "They should wait no more."
During his time to speak, Cannon maintained his actions were in self-defense.
"I defended my life," Cannon said. "Even in the right, there is no enjoyment or satisfaction in acting in self-defense. This is something that no one should experience. The end result was not intended, it was not a murder. I wish it never happened."
Cannon was originally scheduled to be executed on March 9 before the Oklahoma Court of Criminal Appeals granted a motion filed by Drummond asking the court to set 60 days between executions instead of the state's pace of every 30 days to lessen the workload on Department of Corrections staff.
Oklahoma plans to carry out five more executions through June 2024 as part of the second of a five phase plan to conduct 25 executions first scheduled in 2021.
___
(c)2023 the McAlester News-Capital (McAlester, Okla.)
Visit the McAlester News-Capital (McAlester, Okla.) at mcalesternews.com
Distributed by Tribune Content Agency, LLC.
McClatchy-Tribune News Service