Nev. plan to use untried execution drugs draws criticism
Prison officials drew criticism Friday for proposing an untried three-drug combination for the scheduled Nov. lethal injection of a twice-convicted murderer
---
By Ken Ritter
Associated Press
LAS VEGAS — Prison officials in Nevada drew immediate criticism Friday for proposing an untried three-drug combination for the scheduled Nov. 14 lethal injection of a twice-convicted murderer who says he wants his execution sentence carried out.
The state has supplies of the sedative diazepam, the powerful synthetic opioid fentanyl and the muscle paralytic cisatracurium it proposes to use to carry out the execution of 46-year-old Scott Raymond Dozier, Nevada Department of Corrections spokeswoman Brooke Keast said.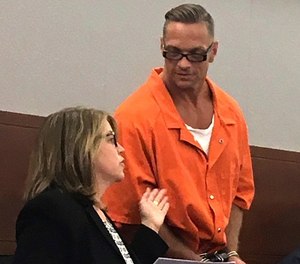 Nevada, like other states, is struggling to obtain execution drugs because European pharmaceutical companies began blocking the use of their products for lethal injections.
Prison administrators didn't immediately respond to questions including who will have the final say about what drugs are used, how the three medications were obtained, what order they would be administered and who will be in the Ely State Prison death chamber for Dozier's execution, which would be the first in the state in 11 years.
The American Civil Liberties Union of Nevada and an official at the Berkeley Law Death Penalty Clinic in California raised other questions, and said they fear Dozier will suffer and suffocate while he's conscious and paralyzed, but that observers won't be able to tell.
We don't know how this will go," said Jen Moreno, a death penalty clinic attorney involved in lethal injection challenges in other states. "When we've asked that question before, it has not gone well."
Moreno said Nevada didn't release a plan, just a list of drugs including cisatracurium that could "mask any signs of pain and suffering or problems that might occur with breathing," and fentanyl that can slow breathing to a stop.
Neither drug has been used in executions before, she said.
Moreno referred to the 2014 executions of Dennis McGuire in Ohio and Joseph Rudolph Wood III in Arizona. Both gasped and snorted for nearly 30 minutes before they were pronounced dead. Both Ohio and Arizona used a two-drug method starting with the sedative midazolam that each state later abandoned.
"What we saw in those executions was a prolonged struggle to breathe, and movement," Moreno said. "The paralytic would mask the struggle and the movement, but wouldn't mean it wasn't going on."
ACLU officials criticized Nevada lawmakers for leaving to prison officials decisions about how executions are carried out, beyond the requirement that they be by lethal injection.
"This experimental combination of drugs has never been used for lethal injection in any state, and it must be reviewed by the court to ensure it complies with all state and federal laws," ACLU executive Tod Story said.
"Use of these drugs could result in a botched execution, leading to torture or a lingering death," he said.
Dozier, 46, was convicted of two murders in 2002, in Phoenix and Las Vegas. He was sentenced to death in 2007.
Dozier isn't appealing his sentence and told a state court judge in Las Vegas on Thursday he wants his sentence carried out, and that he isn't concerned about pain and suffering.
His attorney, Thomas Ericsson, has been joined by federal public defenders in a request this week for Clark County District Court Judge Jennifer Togliatti to require prisons officials to answer more than 20 questions about the Nevada execution process, drug dosages and the qualifications and training of execution team members.
The judge is due next Thursday to schedule hearings on those issues.