Washington Gov. Jay Inslee suspends death penalty
He hopes it will enable officials to "join a growing national conversation about capital punishment"
---
By Rachel La Corte
Associated Press
OLYMPIA, Wash. — Washington has become the latest state to halt executions, with Gov. Jay Inslee issuing a moratorium on the death penalty for as long as he's in office.
The first-term Democrat said during Tuesday's announcement that he hopes it will enable officials to "join a growing national conversation about capital punishment." Inslee said he came to the decision after months of review and meetings with victims' families, prosecutors and law enforcement.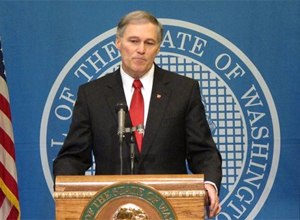 "I previously supported capital punishment, and I don't question the hard work and judgment of the county prosecutors who bring these cases, or the judges who rule on them," he said at a news conference. "But my review of the law in Washington state and my responsibilities as governor have led me to reevaluate this position and the way it relates currently to our state."
Inslee's action is the latest of several moves in the states on the death penalty in recent years.
In Maryland, lawmakers last year did away with the death penalty, becoming the 18th state to do so and the sixth in six years. Colorado's governor last year decided to indefinitely stay an execution, saying he had concerns about the fairness of the system and would be unlikely to allow the delayed case to move forward while he was in office. And Oregon's governor in 2011 issued a moratorium similar to what is now in effect in Washington state.
There have been 78 inmates, all men, put to death in Washington state since 1904. Since a 1976 U.S. Supreme Court decision cleared the way for the resumption of executions by states, 1,366 people have been put to death, according to the criminal justice nonprofit Death Penalty Information Center.
In Washington state, nine men are currently on death row. The state Supreme Court last month rejected a petition for release from Jonathan Lee Gentry, sentenced to death for the murder of a 12-year-old girl in 1988. Gentry could have been the first execution in the state since September 2010.
Inslee's moratorium means that if a death-penalty case comes to his desk, he will issue a reprieve. Reprieves aren't pardons and don't commute the sentences of those condemned to death. Under Inslee's system, death-row inmates will remain in prison rather than face execution.
"I don't question the guilt or the gravity of their crimes. They get no mercy from me," Inslee said. "But I do not believe their horrific offenses override the problems that exist in our capital-punishment system."
Reaction from county prosecutors was mixed. Dan Satterberg, the elected prosecutor in King County, which includes Seattle, said the moratorium "is likely to cause more delay, expense and uncertainty."
"A moratorium alone will not resolve the issues raised by the governor," Satterberg said in a written statement. He said there should be an informed public debate before the state makes changes.
Kitsap County Prosecutor Russell Hauge called the death penalty "an extremely ineffective tool."
But he noted that the moratorium didn't change state law, which obligates county prosecutors to seek the death penalty when circumstances warrant.
"The problem is," he said, "the law's still on the books."
Leonid Milkin, whose wife, children and sister-in-law were killed by Conner Michael Schierman, said Inslee should uphold the state law.
"It's very disappointing," Milkin said. "He did not take into consideration the victims."
Inslee, who was elected in 2012, said executions are "unequally applied" in the state, "sometimes dependent on the size of the county's budget" where the crime occurred. He also said death-penalty cases can take years to wind through the legal system and represent a drag on state and local budgets.
He said the system "does not deter crime, costs citizens millions of dollars more than life in prison without parole," is "uncertain in its application" and "exposes families to multiple decades of uncertainty."
Inslee said that although his decision to issue a moratorium was a difficult one, "I'm at peace with it."
"I'm comfortable that this is the right decision," he said.