Future Calif. correctional officers go through boot camp
CDCR's Stockton Training Center is hosting its first academy for new youth correctional counselors and officers in about seven years
---
By Jennie Rodriguez-Moore
The Record
STOCKTON — Forty-eight cadets are undergoing rigorous physical training, weeks away from their families, hours of classroom learning, and an adjustment to strict structure in Stockton.
California Department of Corrections and Rehabilitation's Stockton Training Center is hosting its first academy for new youth correctional counselors and officers in about seven years. And it's been four years since its Division of Juvenile Justice has had a cadet academy.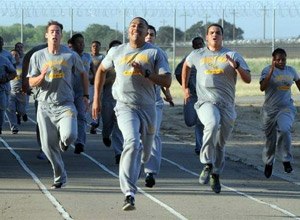 "We're actually very excited about the prospect of bringing on 48 new members to our juvenile facilities," said Jeff Plunkett, a retired chief of security who was asked to return to oversee the academy.
Over the past 20 years, the youth division had been trimming its work force and shutting down facilities with legislative changes that shifted more responsibly for juveniles to the state's 58 counties, reducing the population of state wards from about 10,000 to about 700 — a reduction of about 93 percent.
Changes ensured only youth with violent felonies, including sex offenses, go to state corrections facilities. The division's mission changed to focusing on rehabilitation with the enactment of 2007 legislation.
But now the state department has hit a point where there is a flood of retirements and there is a need for new officers and counselors to fill positions left vacant.
"When you have a void of employees, it leads to forced overtime for your current employees, so it was very important for us to get a new batch in, so we can continue to providing the services to the youth population in a safe working and living environment," Plunkett said. "I've talked to people in our facility and they're extremely happy that we're getting a new batch.
"I think it bodes well for DJJ that we're able to provide new employees an opportunity to begin to pursue a career in law enforcement within the DJJ."
CDCR is planning to hire a total of about 7,000 new correctional employees statewide by 2016 for both adult prisons and youth facilities. Two of the youth institutions are in Stockton — O.H. Close and N.A. Chaderjian.
The influx is so large that the training facility in Galt was busting at the seams, leading to the use of the Stockton Training Center.
Incoming counselors and officers are the first academy to be hired since the juvenile division changed its mission to what the department calls the "Integrated Behavior Treatment Model." In fact, most of those hired — 38 of the 48 — will be youth correctional counselors.
The model requires involvement of the youth's families, mental health treatment, programs in conflict resolution and other resources to teach the youth to properly interact with others and respond to circumstances without having to resort to violence.
"They're going to head back to their communities, and we want them to be as best prepared as possible to deal with the life challenges they will face," Plunkett said.
That's one aspect of the job that attracted cadet Kellin Mills, a Los Angeles resident who is training in Stockton to work with youth in Southern California.
"I chose this career because I am very interested in rehabilitation, and I love working with the youth," said Mills, 43.
Cadets are required to stay in the dorms at the training facility for the 16-week training period. The tough part about that for Mills, a single mother, is having to be away from her 11-year-old daughter, the youngest of three. Her older children live in Texas.
"I've been excited. I've been a little anxious. I've had a plethora of emotions," Mills said on her first day of training. "But I got a tour, so that made it a little easier for me."
Meeting new people who are supportive has also made it easier.
Cadet Nathaniel Williams, 29, will be stationed at O.H. Close. A former U.S. Marine, Williams is relocating with his wife and 2-year-old daughter to Stockton from Visalia.
"This is already a completely different experience (from the Marines)," Williams said.
The cadets are being trained to have structure much like the miliary, but Williams said it feels more of a "family" atmosphere. "I'm really excited about that," he said.
Williams said he is looking forward to helping restore youth into society. "When they leave, you can go home with a sense of accomplishment, saying that when they do go home you had an effect on what their outcome might be once they leave your care," Williams said. "And to be a part of that molding, it's a great feeling."
Plunkett said recruits will learn a myriad of strategies, such as motivational interviewing, which encourages the youth to think about their behavior and to consider the benefits of changing their behavior.
"It's not just your basic custody and security (which is also part of the training), but we also want to ensure that the cadets are as prepared as possible to deal with the clientele they'll be exposed to and the challenges associated with the job," Plunkett said.