Absconders represent the dark side of probation
Until arrested, absconders create chaos for themselves and everyone around them
---
For thousands convicted of felonies or misdemeanors each year, probation is a judgment and sentencing option for prosecutors, defense attorneys and judges to agree upon, as an alternative to incarceration for qualifying offenders.
If deemed eligible, offenders receive a conditional gift, one requiring compliance with a probation plan, a list of obligations individually tailored, usually based on a court-ordered evaluation, prior to sentencing. In exchange for complying with the rules of supervision, offenders are able to enjoy life outside prison walls; in effect, probation becomes their second last chance, and, if successful, there are significant gains and benefits. It's hard to believe anyone would risk losing that gift.
The essence of probation is face-to-face contact with a probation officer, someone who is trained to be part cop, part counselor, part caseworker, and part bloodhound.  The arrangement for the probationer is simple: know the rules and follow them, pay fees, court costs, restitution, report to an officer regularly, pass scheduled and random drug tests, work if possible, and attend treatment or classes. Failure to follow the rules means offenders risk returning to court to face sanctions, or perhaps full-blown revocation, including a free bus trip to the correctional facility.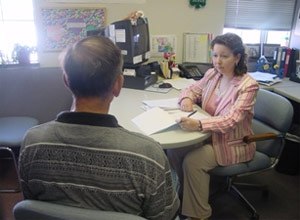 While the choice seems obvious, many probationers struggle to remain compliant with probation plans and slip into a pattern of criminal activity, substance abuse and defying authority, again.
Accountability is the chief reason for reporting to an officer, and, when troubles arise, officers address issues swiftly, guiding offenders back on track with a firm, but encouraging hand. Probation officers recognize occasional backsliding will occur, and, in fact, know the roller coaster ride is part of the recovery process.
The tide quickly turns, however, when probationers stop reporting for appointments and eventually disappear. They fail to notify officers about their whereabouts, stop communicating altogether and, while probation officers make every effort to locate them, they eventually become tagged as absconders.
Absconders represent the dark side of probation. Why? Absconders compromise the gift probation affords, they demonstrate a disregard for supervision requirements, and take their chances on the streets, often resulting in the 6:00 o'clock breaking news story. (A probation officer's worst nightmare come true.)
Once on the run, absconders stay underground, hiding out, moving from place to place. Absconders pose a risk to the public and to probation officers who turn over every leaf looking for them. Once a warrant is issued for an absconder's arrest, public safety challenges increase. Friends and family members, including children, are forced to be evasive about an absconder's whereabouts. Until arrested, absconders create chaos for themselves and everyone around them, cannot work, commit new crimes, wind up in jail, and eventually lose their second last chance.
Absconders affect rates of recidivism in different ways in different states, with definitions and reported statistics confusing. It is clear, however, the greater the propensity for violence among this population, the greater chance absconders pose to public safety.
Many offenders accept their gift of probation and comply successfully. Sadly, absconders do not, and probation officers face the daily challenge of locating them, before the 6 o'clock news.