Voice for the voiceless: How a father's pursuit of justice for his son helped missing children
After the tragic kidnapping and murder of his son, John Walsh stopped at nothing to make sure it wouldn't happen to other families
---
There is perhaps no more recognizable figure in the subject of victims' rights than John Walsh. John's rise to fame as a voice for the voiceless began immediately following the disappearance of his son. In 1981 Adam Walsh, the six year old son of John and Revé Walsh was abducted from the toy department of a Sears department story in Hollywood Florida.
Two weeks after the abduction, Adam's severed head was found in a canal by fishermen, and his body has never been recovered. Adam's death, and his father's relentless pursuit of justice for Adam and all those like him would have everlasting and immeasurable impact on the world of victims' rights and the criminal justice system.
The abduction of Adam Walsh took place just over two years after the widely publicized disappearance of 6-year-old Etan Patz in New York City. In May 1979, Etan had been walking to school when he vanished. Etan was the first child to have his photo placed on milk cartons and the innovative strategy brought national attention to his case.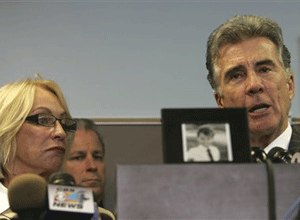 Etan has never been found, and although a suspect was found responsible for his death in civil court, a different suspect confessed to murdering Etan and throwing his body away in a plastic bag. Etan and Adam's cases helped to bring national attention to the plight of missing children and their families.
In 1982, Congress passed the Missing Children's Act, which added the ability for law enforcement agencies to upload missing children information into the National Crime Information Center (NCIC), an FBI database of criminal information accessible to all law enforcement agencies. In 1984, the National Center for Missing & Exploited Children opened. Then Walsh's own center, the Adam Walsh Outreach Center for Missing Children, merged with the National Center for Missing & Exploited Children in 1990.
In 1988, John Walsh took his tireless dedication for victim advocacy to the next level when he signed on to host the television series America's Most Wanted. The show went on to aid in the capture of more than a thousand wanted criminals, criminals who without the intervention of a passionate father may have never been brought to justice. In 2006, the Walshes won another victory with the passage of the Adam Walsh Child Protection Act which was signed into law by President George W. Bush. The act established a national sex offender registry and helped to make it more difficult for predators to reach potential victims through the internet.
In an interview with Geraldo Rivera, John Walsh was asked how he deals with the psychological burden of being associated as the father of a murdered child. John said that because of his feelings about his inability to get justice in Adam's case, "If I can't get justice for myself… I've gotta be the voice for those voices."
That statement alone sums up the focus for John over the past 30 years. He has dedicated himself to the pursuit of justice for others even when justice for Adam seemed out of reach. In 2008, police identified the now deceased serial killer Otis Toole as Adam's killer, brining closure for the Walshes nearly 30 years after Adam's abduction.