Rikers Island CO assaulted by inmate
The injured CO suffered face lacerations, fractured cheekbone in the attack by a detainee already facing four charges of assaulting COs
---
By Graham Rayman
New York Daily News
NEW YORK — A Rikers Island detainee already facing four charges of assaulting correction officers struck a fifth time Wednesday in a mess hall attack that broke an officer's cheekbone and lacerated his face, sources and records show.
The officer, whose identity is being withheld, was beaten just after 5 a.m. in the Anna M. Kross Center, records show.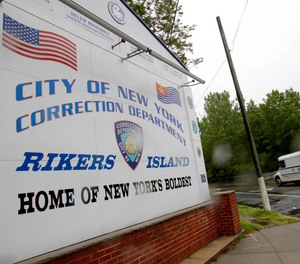 The attacker was Edwin DuClosel, 57, whose most recent jail stint began Nov. 8 on a series of charges including felony assault in the Bronx and misdemeanor sex abuse out of Manhattan, records show.
DuClosel has been indicted four times on charges of punching correction officers in the face, said a spokesman for Bronx District Attorney Darcel Clark.
Records show those incidents occurred in July, August, November and December. He has not been arraigned in those cases yet, the Bronx DA's spokesman said.
DuClosel also has a state parole hold, which can be imposed on people suspected of violating parole rules.
Sources briefed on the latest incident said that before the attack, DuClosel stated to the officer that he planned to assault another officer.
When the victim, who has five years on the job, tried to dissuade DuClosel from his plan, the detainee attacked him.
In the caught-on-video assault, DuClosel punched the officer several times in the face, knocking him down. He then kicked the officer in the face.
The officer and a second officer fought back, punching DuClosel and then using wrestling holds to take him down and handcuff him.
The officer's face was cut up and his cheekbone fractured, the sources said.
The second officer who intervened suffered minor injuries, the records show. DuClosel sustained unspecified injuries.
Benny Boscio, president of the Corrections Officers' Benevolent Association, called the attack unprovoked. The beating, he said, "shows that the inmates are as emboldened as ever to lash out because they know there are no meaningful consequences for their violent crimes committed in jail."
Boscio linked the attack to what he described as a wave of retirements by correction staff.
"Our officers are sick and tired of putting themselves in harm's way every day while our elected officials do absolutely nothing to bolster the safety of our jails," he said.
DuClosel, records show, had served two prior stints in state prison, including one for assault in Orange County from 2014 to 2019.
Prior to that, he served 14 years for weapons, burglary and assault charges out of Queens, the state records show.
The Correction Department and DuClosel's lawyer did not immediately respond to requests for comment.
©2023 New York Daily News.
Visit nydailynews.com.
Distributed by Tribune Content Agency, LLC.
McClatchy-Tribune News Service