Father of fallen correctional officer working to make sure inmates who kill are punished
Don Williams won't ever allow his son's death to have been in vain
---
By Bill O'Boyle
The Times-Leader
NANTICOKE — Don Williams won't ever allow his son's death to have been in vain.
His son, Eric Williams, 34, had only handcuffs, keys and a radio and was the only corrections officer working a cell block at the U.S. Penitentiary Canaan in Wayne County when he was killed Feb. 25, 2013.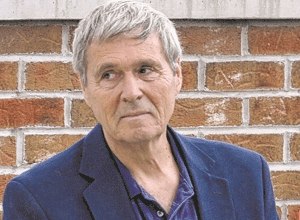 A federal grand jury indicted inmate Jesse Con-Ui on first-degree murder charges in June 2013. Prosecutors are seeking the death penalty in the trial scheduled for July 2016.
Don Williams is working to improve conditions for prison employees. He also wants more severe penalties for inmates who kill or injure corrections officers.
Williams founded Voices of JOE, a political advocacy group whose primary purpose is to lend a voice to the families of corrections workers as well as corrections workers themselves. The group held its first roundtable discussion Wednesday night Wednesday's meeting at the Watson Inn, Watsontown.
Williams, of Nanticoke, started the group that seeks to identify on-the-job safety concerns for corrections workers, promote and support legislation pertaining to safety of corrections workers, and raise awareness of the dangers encountered in working within the prison system.
"I made a commitment to my son upon his death that I won't allow him to have died in vain," Williams said Thursday. "I wont be satisfied until these concerns are acknowledged and rectified. I'm not looking to attack people and have heads roll. I'm looking for change — for protection for those working in prisons and for justice for inmates who attack them."
Voices of JOE is named for three fallen corrections officers — Jose Rivera, Osvaldo Albarati and Eric Williams. All three were killed by inmates. Rivera was killed at a federal prison in California and Albarati was killed when he left his job at a facility in Puerto Rico.
Williams said Wednesday night's meeting went well.
Williams said there was a discussion about a recent decision by a U.S. Attorney to accept a plea bargain for Jose Rivera's killer.
"The inmate was doing life in prison already," Williams said. "They allowed him to plea out and gave him another life sentence."
Williams said the decision has caused a tremendous response in the corrections' community.
"That's like painting a target on all prison workers," he said. "If an inmate kills a corrections officer, nothing will happen. We feel the same thing could happen to Eric's killer."
Williams said he and members of Voices of JOE feel the U.S. Attorney's Office "threw in the towel" by accepting the plea bargain.
"We all found it unacceptable," he said. "They never went to trial. They just gave up."
Williams said Voices of JOE has asked federal legislators to do a retrospective review of the case. The group wants U.S. Attorney General Loretta Lynch to look into it as well.
Williams said the first meeting also discussed safety issues within the corrections system, including staffing ratios and special housing.
"We're concerned about reducing prison population to save money," Williams said. "And too many inmates who should be in special housing are being integrated with the general population. That was the case with Eric. His killer should have been in special housing."
Williams said more and more reports of inmates attacking corrections officers are being heard.
"The inmate populations continues to rise, while staff is being cut," he said. "That's a formula for disaster."
Williams said Voices of JOE is calling for oversight hearings in the Judiciary Committees of the House and Senate.
Williams said the death penalty should be invoked in cases where an inmate already serving a life sentence kills an officer or another inmate.
"Even if you're not a supporter of the death penalty, common sense tells you that you can't allow these inmates to get no penalty for killing someone," Williams said. "Some of these cases are slam dunks. They are caught on video. You can't murder somebody and have nothing happen."
U.S. Rep. Tom Marino, R-Lycoming Township, U.S. Sen. Bob Casey, D-Scranton, and U.S. Sen. Pat Toomey, R-Zionsville, all had representatives attend Wednesday's meeting. Marino sits on the House Judiciary Committee.
"The federal death penalty needs to remain a viable option available to the Department of Justice as a way deter and protect our officers," Marino said.
Marino said the first meeting of Voices of JOE brought together the corrections officers union and elected representatives and gained a great deal of clarity about the state of our federal prisons and issues facing correctional officer safety.
Casey said meeting participants discussed the overall concern that prison officers and their families have about the dangerous nature of their work. The need to ensure that correctional facilities are staffed by an adequate number of guards was also discussed.
"Prison guards take incredible risks every day," Casey said. "We have an obligation to prison officers and their families to take common-sense steps to ensure they're safe on the job. Allowing more prison officers to carry pepper spray could make all the difference when it comes to an attack from an inmate."
Toomey said the murders of corrections officers are horrific and shocking. Toomey favors expanding the use of pepper spray.
"While some level of risk will always be present in a prison, Congress can and must do more to protect our correctional officers," Toomey said.