Pa. county bridge named for fallen corrections officer
Bridge on state Route 3005, over the outlet of Lily Lake in Conyngham Twp. is now the Senior Officer Eric J. Williams Memorial Bridge
---
By Charlotte L. Jacobson
The Times-Tribune
HARRIUSBURG — Gov. Tom Wolf on Friday signed a bill into law that renamed a Luzerne County bridge in honor of a corrections officer killed while working at the U.S. Penitentiary at Canaan. The bridge on state Route 3005, over the outlet of Lily Lake in Conyngham Twp. is now the Senior Officer Eric J. Williams Memorial Bridge.
Officer Williams, 34, was allegedly killed by Jessie Con-ui, a violent New Mexican Mafia member jailed for killing a gang rival, on Feb. 25, 2013. Officials said Officer Williams, was working alone in a unit housing about 130 inmates and was preparing to lock them into their cells for a nightly head-count when he was attacked.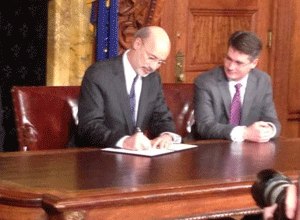 The state Department of Transportation will erect two signs at the bridge. The legislation, introduced by state Rep. Gerald Mullery, will take effect 60 days after the governor signed it.
"Eric made the ultimate sacrifice while helping to keep us safe, and I'm pleased that we are honoring his memory," said Mullery, D-Newport Township. "Naming this bridge after him is certainly a fitting tribute."
Mr. Con-ui, who was serving a life sentence at the time of the brutal murder, was indicted four months after the attack but has yet to stand trial for his actions. He is charged with first-degree murder, first-degree murder of a federal corrections officer and possessing contraband in prison.
A final pre-trial conference is scheduled the week of June 13, 2016 and a final motions hearing, the week of June 27.
Prosecutors said they will be seeking the death penalty against Mr. Con-ui.