Police: Wash. county inmates are threatening victims via text message
Inmates at the facility can send text messages to the outside via tablets, and some are abusing the privilege
---
By Sarah Sinning
YAKIMA COUNTY, Wash. — Like in many facilities across the country, inmates at the Yakima County jail use tablets to access educational programming, entertainment options, and, for a fee, they can even send text messages to friends and family on the outside. 
But while county DOC officials say the program has been a boon for the facility since its 2019 debut, Yakima police officers are sounding the alarm about what they say is a serious flaw in the system: Inmates accused of crimes like domestic violence have been using the text messaging feature to intimidate victims into silence, KAPP-KVEW reports.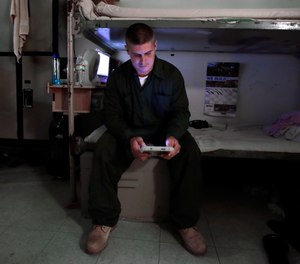 "A handful of inmates can generate thousands of texts that are all in violation of a no-contact order," Yakima Police Det. Mike Durbin said.
While jail staff can restrict access once it's been determined that a violation has occurred, it only takes one message for the damage to be done, Durbin said, which is why he and other law enforcement officials are asking for changes to be made to the program so that future victims will be protected. 
Once a victim has recanted their statement, he said, "we're back where we started and the cycle of abuse just starts over." 
not an easy fix
While police officials have asked the jail to simply discontinue the messaging service, the jail's interim director, Jeremy Welch, says it would cost the jail several thousand dollars per year to do so. That's because the facility is receiving a discount on the tablets tied to that feature, which is a revenue stream for the tablet maker and the only paid option available.
"If we stopped the text messaging, we would have to pay the additional cost of the rental fee that we pay per month to have those tablets on-site," Welch said.
But Welch also points to the benefits of the technology, which he credits for making the jail safer as well as improving inmate outcomes.
"There's always that risk of potential violations and I understand that law enforcement is concerned with that," he said. "But what we can't quantify is the benefit that they might be getting from that communication with family and friends, that are keeping them encouraged and getting them through a hard time."
He also says, however, that he is open to working with the appropriate stakeholders to find a middle ground. 
Depending on the options available to the jail under state law, he said, they may be able to restrict access up front to inmates accused of crimes involving domestic violence or witness intimidation. Judges can also include provisions in no-contact orders that prohibit access to texting while in the jail's custody.
"That's what we really want to do at the end of the day is to help each other out and hold people accountable that continue to violate no-contact orders," Welch said.