W.Va. inmate takes selfies in prison van, posts on Facebook
The inmate said he posted the photos to boost his morale and let his friends and family know he was doing well
---
By C1 Staff
CABELL COUNTY, W. Va. — A Western Regional Jail inmate recently managed to take selfies and post them on Facebook — all while in a prison van.
WSAZ reported that inmate, Shane Holbrook, posted the photos after being denied a home confinement request on Monday. He is currently facing charges of robbery and malicious wounding.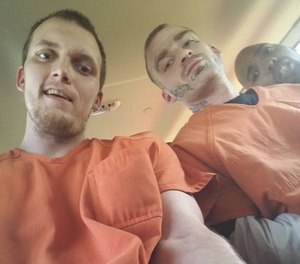 While in the van, Holbrook managed to post three photos on Facebook in the span of 20 minutes. The photos, captioned, "On the van," "Go hard all day" and "Keep up," show Holbrook smiling and handcuffed with other inmates.
Holbrook said he posted the photos to boost his morale and let his friends and family know he was doing well.
When asked about how the photos were taken, Holbrook said, "I think there might have been a cellphone involved. That's about as much as I can say about it."
Holbrook did admit that, "I found it," sometime between leaving the jail for court and returning.
"The West Virginia Regional Jail and Correctional Facility Authority requires pat-downs of all individuals when they enter its custody, as part of the agency's zero tolerance policy against contraband. The incident in question remains under investigation. The device at issue was confiscated before the inmates entered the Western Regional Jail," Lawrence Messina, a spokesman for the West Virginia Department of Military Affairs and Public Safety, said in a statement to the publication. 
Yet, Holbrook claimed that, "They never found the cell phone on me," when he was strip searched before leaving and reentering the jail.
Holbrook is being held on a $200,000 cash-only bond and is considered a threat to the public by the court. 
The incident is currently under investigation.