Calif. county sheriff's office tracking COVID-19 exposure in department
The Santa Clara County Sheriff's Office created a special investigative unit to mitigate the spread of COVID-19 among personnel and inmates
---
By Sarah Calams
SAN JOSE, Calif. — A sheriff's office has formed a special investigative unit to track potential COVID-19 exposure in its department. 
The Santa Clara County Sheriff's Office's COVID-19 Investigative Unit (CIU), which is made up of seven sergeants, eight investigators, two analysts and a lieutenant, are performing contact tracing of potential exposures among staff and inmates who have tested positive for the novel coronavirus. The CIU was launched on March 26.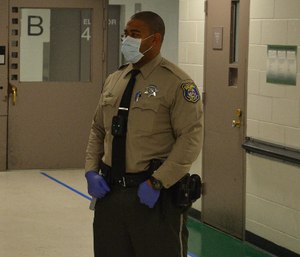 Currently, 11 staff members and one inmate have tested positive for COVID-19. The team's goal is to identify risks, and isolate and quarantine individuals if needed to stop the spread. 
The department can contact trace thanks to jail surveillance footage and body-worn cameras.  
"We're going through hours and hours of footage trying to identify anyone who maybe they didn't realize it at the time had any exposure to respiratory droplets through coughing or sneezing," Deputy Courtney Bryan told KTVU.com. "There's a lot of interaction obviously in a custody setting." 
The department also launched a patrol Virus Response Team, which is "responsible for assisting on and investigating high exposure calls for service in the community and in the jail facilities," according to the Santa Clara County Sheriff's Office's website. The team of sworn personnel are trained in decontamination and virus mitigation practices. 
Additionally, the department has set up a decontamination trailer with showers and established areas in correctional facilities with shower accessibility.