N.Y. DOCCS begins suspending COs not complying with COVID testing requirement
Of the 9,163 staff members who aren't considered fully vaccinated, only 2,340 have submitted weekly test results
---
By Fernando Alba
The Press-Republican
        
PLATTSBURGH, N.Y. — The state's corrections department began suspending officers this week, citing noncompliance in statewide COVID-19 testing requirements.
New York's Department of Corrections and Community Supervision first informed staff of the requirement to report their vaccination status or participate in weekly testing starting in early October and were reminded on "numerous occasions thereafter," a DOCCS spokesperson said.
"As a result of staff failing to comply, DOCCS began taking disciplinary action on November 30, 2021. These decisions were made with a focus on the safety and security of the affected facilities and the surrounding communities," DOCCS said.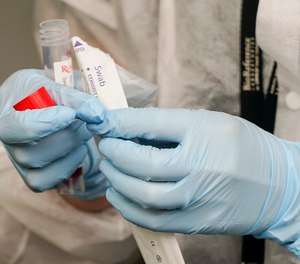 "The suspension of individuals who were not compliant with the directive was made strategically. The Department continues to work with the unions throughout this process."
All state employees have been expected to be fully vaccinated since Oct. 12. Otherwise, they would have to be tested weekly and report their results through a secure submission portal.
On Nov. 24, DOCCS sent out a memo notifying staff that a full review of employees reporting or failing to report either test results or vaccination status would be conducted.
Employees who are found not in compliance with the statewide directive have been subject to disciplinary action, including suspension.
As of Dec. 1, 16,256 of 25,419 DOCCS staff, or 64%, are considered fully vaccinated. Of the 9,163 who aren't considered fully vaccinated, only 2,340 staff members have submitted weekly test results.
The New York State Correctional Officers and Police Benevolent Association, the union representing correctional officers in state prisons, said the vaccination and testing mandates have been complicated and time-consuming since being implemented.
"There have been countless stories from members about how complicated and time-consuming the testing requirement is," Michael Powers, NYSCOPBA's president, said in a statement.
"Putting aside the fact that this mandate was imposed upon our membership without going through the collective bargaining process, it requires our members to do this in their personal time, using their own devices, and without the option of any of this being completed in prison facilities," Powers said.
"NYSCOPBA will continue to assist correctional officers through this process in order to keep facilities sufficiently staffed because ultimately, the safety and security of prison facilities is at stake and that is our number one priority."

(c)2021 the Press-Republican (Plattsburgh, N.Y.)
McClatchy-Tribune News Service