'We basically gave this guy a death sentence,' Ariz. sheriff says of inmate's COVID death
Sheriff Chris Nanos believes low staff vaccination is the primary driver of infection within the jail he oversees
---
By Nicole Ludden
The Arizona Daily Star
        
TUCSON, Ariz. — Zachariah Farrington, a 42-year-old inmate at the Pima County jail, was transported to a local hospital after contracting COVID-19 on Sept. 6. Three weeks later, Farrington was pronounced dead, becoming the third inmate to die after testing positive for the virus in the jail's custody, according to the Pima County Sheriff's Department.
While inmates undergo stringent COVID-19 mitigating protocols, a low vaccination rate among those tasked with supervising them has caused Pima County Sheriff Chris Nanos to speculate how Farrington caught the virus.
"We basically gave this guy a death sentence," Nanos said. "We made him go through quarantine protocols, everything CDC gave us as guidelines. We think he's gonna be safe, we stick him in a pod that everybody in there went through those same protocols. They all believe they're safe, except one person is allowed to come and go out of that pod. That's the corrections officer."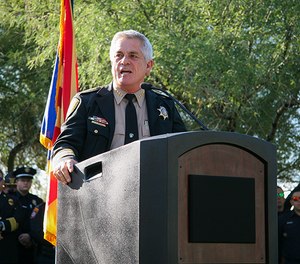 The Pima County Board of Supervisors has attempted to raise COVID-19 vaccination levels among county staff by providing incentives without yet mandating the shot, but the Sheriff's Department has continuously lagged behind the rest of county employees' vaccination rates.
As of Oct. 10, 57% of 1,356 employees in the Sheriff's Department confirmed their vaccination status with the county. The numbers are lower among employees staffing the Pima County jail, with about 43% of 450 corrections officers, sergeants and lieutenants confirming they're vaccinated, according to the county's records.
Nanos said his department's vaccination rate is "disappointing, particularly when you're talking about people who are willing to take a bullet for you but they won't take the shot."
A 'personal choice'
Law enforcement workers were among the first to get access to the vaccine in Pima County, but many still haven't received it. And in both 2020 and 2021, COVID-19 has been the number one cause of death for law enforcement officers, according to the Officer Down Memorial Page.
As of Oct. 12, 57% of corrections officials staffing the county jail haven't confirmed their vaccination status, according to the county's vaccination records. The county's only way of tracking who has received a vaccine is by verifying vaccination status once an employee voluntarily discloses it, but those who don't confirm they're vaccinated are subject to a $45 surcharge in their health insurance plans every paycheck.
The U.S. Centers for Disease Control and Prevention recommend vaccinations for everyone who's eligible, but particularly among staff at correctional facilities where outbreaks of COVID are difficult to control with limited space and lack of social distancing.
Jennifer Zeunik, director of local programs for the National Police Foundation, a nonprofit research group that consults with policing agencies throughout the country, says low vaccination rates in law enforcement agencies is a nationwide trend.
"We would definitely encourage people that are in a position to safely get vaccinated to do so. We don't want to see any more law enforcement officers die from COVID," she said. "I think the same reason that you would see the general public maybe not wanting to participate in vaccinations are probably some of the same reasons officers might."
Mike Dominguez, chairman of the Sheriff's Labor Association of Pima County, said he believes getting a vaccine, even for jail employees, "boils down to people's personal choice" and shouldn't be a requirement for employment.
"Whether you want to get it or not, that's personally up to them," he said. "As long as they're taking the proper protocol, they're washing their hands, they're wearing their mask, they're not coming to work with any symptoms and they're getting screened prior to entry."
But Nanos says the issue goes beyond "individual rights."
"I have to think about the safety of what I'm charged with," he said. "I am charged with keeping a jail and maintaining some sort of safety and security for those who are there, whether it's staff or inmates."
The jail's COVID protocols say employees are required to wear masks and pass a temperature screening before they start their shift. But even with mitigation protocols in place at the jail, COVID-19 is still finding its way into it.
In September, 55 positive COVID cases were reported among inmates and 24 cases have been reported the first two weeks of October, according to data provided by the Sheriff's Department. As of Oct. 11, the jail's COVID cases among inmates totaled 768.
On Oct. 11, 1,721 inmates were in the jail and 25 of them were positive for COVID and in quarantine, the department says.
When they arrive at the jail, detainees are screened for COVID symptoms and tested for the virus. All inmates are offered a vaccine, and inmates who enter the jail already vaccinated, who don't present symptoms and test negative for COVID, don't have to quarantine at intake, according to the jail's COVID protocols.
But unvaccinated inmates who enter the jail at the same time are quarantined together for 14 days in a separate area of the jail complex with up to three people in a cell or up to 10 people in a dormitory-style room. Those in quarantine get one hour a day outside of their rooms to spend in the day room and to shower, time permitting, the department says.
The jail's protocols say inmates should be tested when they enter the jail, before they're released into the general population and twice weekly for unvaccinated inmates leaving the jail for work assignments or appointments outside of the facility.
However, employees at the jail aren't subject to frequent testing requirements.
The county's human resources policies say employees must report to their supervisor if they contract COVID. Data provided by the Sheriff's Department only lists two positive COVID-19 cases among all jail staff the first two weeks of October, but Nanos said he was aware of at least seven corrections officers with COVID-19 the first week of October alone, with one officer at home on oxygen.
The lack of reporting makes it difficult to track the rate of COVID cases among jail staff.
The issue of staff reporting positive cases was brought up at the Board of Supervisors' Oct. 5 meeting, and County Administrator Chuck Huckelberry said the health department was "aware of having difficulty, I believe, getting responses from five of the seven infected correction officers."
Tracing the source of transmission is a difficult task for the health department, as many are reluctant to reveal who they've been in close contact with. But contact tracing is a key tool to control the spread of COVID, especially in a crowded jail setting.
"It's difficult because somebody has to name somebody as a contact, and if they don't name them, then we can't try to get a hold of them," said Dr. Theresa Cullen, director of the county health department. "The general public does not share the number of contacts they've been exposed to, and then we can't get ahold of the contacts in many cases. There's no reason to think it's any different with the jail."
Nanos suggests a corrections officer transmitted the virus to Farrington, the inmate who died in the jail's custody in September. Cullen called Nanos' suggestion "a sensical attribution," but acknowledged inmates come in contact with other entities outside the jail, such as lawyers. It's not clear who Farrington could have came into contact with in his time in the jail.
"From an epidemiological perspective, what we look at is where are the opportunities for exposure to COVID? Obviously, it's with the people coming into the jail that don't live there full time," Cullen said.
To date, 1,531 inmates at the jail have either confirmed their vaccination status or have been vaccinated at the facility. The county doesn't have the authority to mandate vaccinations for detainees, but as an employer, it can require county workers to get vaccinated.
'The carrot, not the stick'
Nanos spoke to the Board of Supervisors at its Oct. 5 meeting to promote an idea he feels would help incentivize more vaccinations in his department.
On Sept. 21, the supervisors approved a 5% raise for most county employees. The sheriff asked the board to withhold those raises from unvaccinated employees in the Sheriff's Department. Huckelberry made the recommendation that condition be applied to all county employees.
In August, supervisors incentivized vaccines by offering $300 and three days of leave to all employees vaccinated by Oct. 1 while raising health insurance premiums for unvaccinated employees.
The board turned down Nanos' request. Supervisor Rex Scott said, "I think when it comes to incentives and disincentives, we need to walk a very, very fine line in terms of the things that are warranted, and the things that are just overly punitive."
Dominguez said he and the members of the sheriff's union he represents were "happy with the decision" and believe withholding the raise would have created compression issues within the department.
"(The 5% raise) has nothing to do with the vaccine. My officers, my civilians, my deputies that are in our association worked hard for that raise based on their work and dedication and their commitment to the department," he said. "It shouldn't be politicized to a vaccine shot, whether they believe in it or not based on their own personal choice."
Huckelberry will come back to the board at its Oct. 19 meeting with a draft plan of a potential vaccine mandate, and his recommendation includes mandating the vaccine for employees who work with vulnerable populations, including corrections officers, with disciplinary action "up to and including termination of employment."
That approach, however, Nanos is wearier of. He says the jail is short-staffed by about 70 corrections officers, and the sheriff fears making a vaccine a condition of employment could lead to a mass exodus in an already understaffed department.
"That kind of mandate where anybody who's employed there has to be vaccinated is a real challenge to us because we also have an operation we have to get by," Nanos told the board. "Even if we believe 55% of them aren't vaccinated, that makes running that jail a tough job. We may find ourselves so short-staffed if we make such a mandate."
And without widespread support among county supervisors, the likelihood of them approving a vaccine mandate for employees is uncertain — specifically when it comes to how such a policy would be enforced.
Scott made clear he would not support "any policy that calls for suspensions or terminations," and Supervisor Sharon Bronson said she shared his concerns. Supervisor Steve Christy has adamantly opposed COVID-related mandates, and called the request for a vaccine mandate "a direct assault on the law enforcement community."
In an Oct. 6 memo to the board, Huckelberry acknowledged Scott's caveat to supporting a vaccine mandate "leaves little additional actions the county can take regarding taking actions that would include an unvaccinated employee to become vaccinated."
"To me, I get it, it's a hard decision to make. But I think it needs to be made," Nanos said. "If you are in an environment that you cannot control, such as a jail environment, we need vaccinations. That's as simple as I can make it. And I'd rather do it with the carrot, not the stick."
Recruiting vaccinated workers
Huckelberry imposed an administrative policy on Aug. 31 that all new county hires, as well as county employees seeking a promotion, must be vaccinated. The county administrator says the approach has been "successful," and may become a key tool to increasing employee vaccination rates.
"Frankly, we probably ought to really push for what I call expanded recruitment of trainees," Huckelberry said. "Maybe training double the number if they're going to be vaccinated, and accelerate the training as well as the compensation to get more people in the pipeline."
Nanos says 26 potential corrections officers are undergoing the training required for the job; however, the attrition rate is high. Those applying for the new positions must confirm their vaccination status with the county.
"Even though I have 26, I guarantee you not all 26 will get through even as much as we want them to and as hard as we try to get them to, it just doesn't happen that way," Nanos said. "Every two weeks, we lose three and a half (recruits)."
In the meantime, the health department is working to combat misinformation about the vaccine and explain why the shots are paramount to stopping the spread.
"While you may acquire COVID after you've been vaccinated, your transmissibility period of time will be more limited so you're less likely to infect others and the amount of viral load you have will be less than somebody that's been unvaccinated," Cullen said.
As he continues to struggle with his staff's vaccination rates, Nanos is expressing what he believes is a dual role law enforcement has during the pandemic to protect those they're sworn to serve by first protecting themselves.
"The biggest cop killer out there on the streets today, and has been for the last two years, is COVID-19," he said. "As public safety officials, we need to be responsible and understand that sometimes we do things for the safety of others. That's our role."

(c)2021 The Arizona Daily Star (Tucson, Ariz.)
McClatchy-Tribune News Service