Calif. sheriff's office sees improvements with new mental health program for inmates
Suicide attempts at the jail have been cut in half since the program was implemented
---
By Ishani Desai
The Bakersfield Californian
        
BAKERSFIELD, Calif. — The Kern County Sheriff's Office's creation of a full-time staff position charged with responding quickly to mental health needs of inmates has reduced suicide attempts within Lerdo Jail, according to the KSCO.
The position is part of the Inmate Stabilization and Assessment Team. Within the team, KSCO appointed Detentions Senior Deputy Patrick McNeill to consistently monitor inmates' mental health and to be a liaison between the prisoner and mental health specialists, said Chief Deputy James Morrison.
"I want somebody that's going to be sympathetic, empathetic, and that's going to have a passion for dealing one-on-one with these inmates," Morrison said. "We're actually really proud with the progress."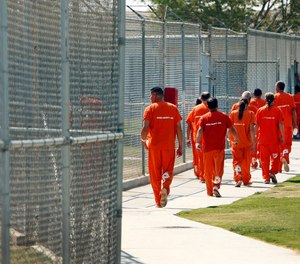 The program became effective in October 2020. From January 2020 to October 2020, prior to its implementation, there were 49 suicide attempts, or an average of five attempts per month, reported the KCSO. Four people died by suicide.
From October 2020 to June 2021, after ISAT's creation, there were 24 suicide attempts and nobody died, according to the KCSO.
McNeill received training as part of the the Admission, Evaluation and Stabilization program at the Lerdo Pre-Trial Facility, where he was the lead officer. Inmates within AES have been determined to be incompetent to stand trial through several psychiatric screenings.
The mental health help within that program prepared McNeill for the position within ISAT, he said.
"It opened my eyes to what ... inmates that we have are actually going through," McNeill said. "They can be cured by either therapy or by medications, and they were able to be restored to competency."
McNeill said his approach uses de-escalation methods to help inmates experiencing hardships with their mental health. McNeill said he will first talk to the inmates about an unrelated topic in a calm, measured tone. Once he gains the person's trust, the topic of medication or any other sensitive subject can be discussed, McNeill said.
"You have to come at them (in) a different way to get them to go along with the program," McNeill said. "You're not trying to tell them what to do, but you're trying to guide them through a process (so) they're more responsive."
McNeill works with a team from Kern Behavioral Health & Recovery Services every day to follow correct health practices.
"I don't know a lot of other facilities that (have) that multidisciplinary team," said Behavioral Health Administrator Michelle Culy, who oversees the employees from Kern Behavioral Health & Recovery Services at Lerdo Jail. "It's been a great experience being able to work so closely with them."
The group includes people from a variety of specialties such as therapists, recovery specialists, psychiatrists, nurses and substance abuse specialists, Culy said. The team oversees the medication and treatment of inmates within Lerdo Jail.
"A lot of people don't understand what it's like to actually be in jail and then to have a mental diagnosis while you're in custody," Culy said. The combination of what she described as a "deputy on (their) side" plus a mental health team every day offers the support inmates need.
Culy said McNeill's presence has helped inmates acclimate themselves to being in custody.
"It can be very intimidating to have officers watching you," Culy said. "That's not (McNeill's) job. He's not there to watch them, to discipline them — he's there to truly help them. It's been a big difference."
McNeill's position also allows inmates to experience continuity, Morrison said. Inmates consistently see the same person and avoid frustration arising from interactions with strangers, Morrison added.
"We need ... one person that can be the voice for the inmates," Morrison said.
The successful and positive reception from the inmates has motivated Morrison to ultimately add two more personnel to the program. Central Receiving Facility, the other jail where inmates are housed on a short-basis, also receives help from McNeill, Morrison said.
"Whatever they did to get into jail, they're still somebody's brother, or somebody's child or somebody's father," McNeill said. "They need to be treated like they're a part of the society, not just locked up, incarcerated inmates."
     
(c)2021 The Bakersfield Californian (Bakersfield, Calif.)
McClatchy-Tribune News Service