How the aging prison population challenges correctional facilities
Until more elderly prisoners are discharged, correctional facilities will be forced to spend more resources on serving this aging population
---
By Dr. Michael Pittaro, Faculty Member, Criminal Justice at American Military University
Prisons are, in many respects, a microcosm of society. In 2030, the last baby boomer will turn 65 and one in five Americans will be older than 65. This aging population is also represented within the nation's prison system.
According to a 2016 Bureau of Justice Statistics study, between 1993 and 2003, much of the prison growth occurred among inmates ages 40 to 54. Between 2003 and 2013, however, the greatest growth occurred among those ages 55 or older. There are two primary factors that contribute to the aging of state prisoners: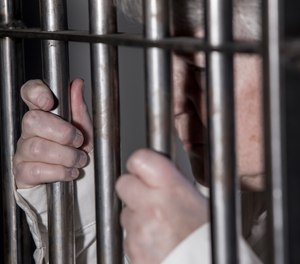 A greater proportion of prisoners are being sentenced to, and serving, longer periods in state prison, predominantly for violent offenses. A 2015 Washington Post article suggested that harsh sentencing policies, including mandatory minimums, are contributing to the aging population.
Admissions of older persons have recently increased. More than four times as many prisoners age 55 or older were admitted to state prisons in 2013 than in 1993.
The Challenge of Caring for Older Prisoners
The changing age demographics within increasingly crowded U.S. prisons has implications for the management and care of inmates. The aging inmate population poses significant challenges to correctional facilities.
Providing and Budgeting for Healthcare
According to a 2012 study by Human Rights Watch, "prisons were never designed or intended to be geriatric facilities." Compared to their counterparts in the community, older prisoners have a greater incidence of illness, disease, disability and mental health diagnoses. Elderly prisoners tend to have the same physiological age and health concerns as individuals who are 10 to 15 years older than them, so they require more care at a younger age. As a result, correctional facilities must spend more money to care for aging inmates. These expenditures include hiring additional nurses and healthcare workers and providing medication to deliver adequate patient care. Correctional facilities also need to update the design of their facilities to accommodate the elderly, including widening doorways and making bathroom and shower facilities wheelchair accessible.
Training Officers to Protect Elderly Prisoners
Correctional administrators also need to conduct officer training about elder care. Many officers currently have limited, if any, training about the unique needs of older inmates. For example, older prisoners are often exploited and subjected to physical and sexual victimization by younger prisoners. Officers need to be vigilant about such abuses and take additional measures to protect elderly prisoners. Not only is this a safety issue within the prison, but such victimization increases the likelihood of successful lawsuits against prisons for failing to take precautionary steps to adequately protect elderly prisoners.
Releasing Older Prisoners Who Pose Lower Risks of Recidivism
Many correctional facilities are considering releasing elderly inmates. This initiative is generally supported by research. A 2014 study by the United States Bureau of Justice Statistics indicated that older prisoners are substantially less likely to engage in additional criminal behavior after they are released from prison compared to younger prisoners. Numerous other studies have reaffirmed that age is one of the most reliable predictors of recidivism and that elderly prisoners have lower rates of re-arrest than younger prisoners.
One potential solution to the challenges associated with the aging prison population is to release nonviolent older offenders, particularly those with diminished cognitive or physical abilities. Most elderly offenders pose very little threat to public safety and can serve as a vital release valve for an overcrowded correctional system. A comprehensive understanding of the public safety risk posed by older offenders is an ideal first step in devising policies without compromising public safety.
Legislation to Address Aging Inmates
More legislation is needed to address the growing elderly population. Towards the end of the Obama administration, the government started implementing federal policies that would allow prisoners who met certain criteria to be released early through clemency. The administration also urged prosecutors to reserve the most severe drug charges for serious, high-level offenders. At the same time, the U.S. Sentencing Commission, an independent agency, made tens of thousands of incarcerated drug offenders eligible for reduced sentences.
While such legislation is a step in the right direction, more needs to be done. Until more elderly prisoners are discharged, either through compassionate release programs or clemency initiatives, the government and correctional facilities will be forced to spend more resources on serving this aging population.
---
About the Author: Dr. Michael Pittaro is an Assistant Professor of Criminal Justice with American Military University and an Adjunct Professor at East Stroudsburg University. Dr. Pittaro is a criminal justice veteran, highly experienced in working with criminal offenders in a variety of institutional and non-institutional settings. Before pursuing a career in higher education, Dr. Pittaro worked in corrections administration; has served as the Executive Director of an outpatient drug and alcohol facility and as Executive Director of a drug and alcohol prevention agency. Dr. Pittaro has been teaching at the university level (online and on-campus) for the past 15 years while also serving internationally as an author, editor, presenter, and subject matter expert. Dr. Pittaro holds a BS in Criminal Justice; an MPA in Public Administration; and a PhD in criminal justice. To contact the author, please email IPSauthor@apus.edu. For more articles featuring insight from industry experts, subscribe to In Public Safety's bi-monthly newsletter.