N.C. jail nurse awarded for stopping inmate assault
Kelly Boswell intervened "without hesitation" when an inmate assaulted 2 COs in an escape attempt, the sheriff's office said
---
By Sarah Sinning
GRAHAM, N.C. — A nurse with the Alamance County Detention Center has been awarded a Lifesaving Award for her quick thinking and selfless actions in stopping an inmate's violent escape attempt in November, the Times-News reports. 
On November 24, 2021, an inmate attacked a sergeant while she was setting up a phone call for him in a holding cell, the news outlet reported at the time. Glen Todd Smith Jr., who had been arrested earlier in the day for burglary and larceny of a motor vehicle, slammed the officer's head into a concrete wall before locking her in the cell.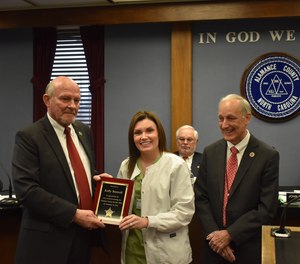 Smith then hit a lieutenant and smashed a plastic mail bin over his head as he attempted to flee the facility.
That's when Nurse Boswell "intervened without hesitation and put herself in danger to help stop the inmate from hurting anyone else," the sheriff's office said in a Facebook post. 
"In these types of situations," the post continued, "many officers may not react quickly, but Nurse Boswell displayed the ability to think quickly and react to a stressful situation. In addition, she helped by providing medical assistance to those that were injured that day. On behalf of the Sheriff's Office, we would like to commend and thank her for her actions."
Boswell was presented with the award from the Alamance County Board of Commissioners earlier this month.