New research to look at HIV behind bars
The National Institute on Drug Abuse is awarding $50 million in grants over the next five years for HIV research
---
By Monifa Thomas
The Chicago Sun-Times
CHICAGO — HIV is four times more prevalent among prison and jail inmates than in the overall population, which makes correctional facilities a key battleground in the fight against AIDS.
Yet there's been scant research on the most effective ways to identify inmates with HIV, make sure they get quality treatment and help ensure that they don't spread the infection once they get out.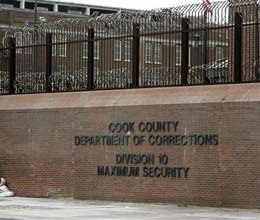 Now, the National Institute on Drug Abuse — a division of the National Institutes of Health — is awarding $50 million in grants over the next five years for research projects in several states. It's the first NIH-funded initiative to target HIV infection in correctional facilities, according to Dr. Jacques Normand, director of the drug abuse institute's AIDS research program.
"If you don't tackle these hard-to-reach populations, there's enough of them to sustain the epidemic," Normand said. "Just dealing with people who are highly educated and have access to health care will not allow us to contain this epidemic."
The $7 million Illinois portion of the funding will go to a project, led by researchers from the University of Illinois at Chicago and the Cook County Jail, focusing on inmates at the jail and at more than two dozen state prisons.
Part of the money will go toward gradually implementing HIV testing for new inmates in the state's prisons that will automatically be performed when an inmate enters the system, unless the inmate refuses. Now, tests are given only by consent.
The Cook County Jail also plans to switch to such "opt-out" testing later this month.
The change in testing policy is in keeping with guidelines from the federal Centers for Disease Control and Prevention and should help reduce the number of infected inmates who don't know their HIV status, said Dr. Jeremy Young, one of the three lead investigators for the project, who is an infectious-disease specialist at UIC.
The researchers will also examine, for the first time, whether linking inmates to HIV care via telemedicine gets better results.
"Prisoners have typically been managed by prison physicians who are generalists, not sub-specialists, so they don't really have access to specialist care," Young said.
Two months ago, UIC launched a pilot program with the Illinois Department of Corrections in which UIC specialists see inmates at prisons via a secure video link. A nurse is in the room with the inmate, and doctors have access to an exam camera and a stethoscope that allows them to remotely hear a patient's heart rate.
"It's basically just like a live visit," Young said, adding that it's less expensive than having doctors drive all over the state to see patients in the prison system.
In theory, greater access to specialty care should lead to more timely initiation of antiretroviral drug therapy.
The third piece of the project involves tracking HIV-infected inmates after they leave prison.
"In the past, prisoners have gotten two weeks of meds and an appointment [for follow-up care] in the city," Young said. "The problem is, when prisoners go out into the community, many of them start taking drugs and hanging out with old friends, and they don't show up for appointments and get lost to follow-up."
The grant will provide for additional case managers to contact newly released prisoners on a regular basis and connect them to mental health services, drug counseling and the state's AIDS Drug Assistance Program.
Copyright 2010 Sun-Times Media, LLC
All Rights Reserved