Report: Policy on inmate healthcare leads to poor health outcomes, increased reoffending
The National Association of Counties and National Sheriffs' Association details the impact of the Medicaid Inmate Exclusion Policy on non-convicted detainees
---
By Sarah Calams
WASHINGTON — A report by the National Association of Counties (NACo) and National Sheriffs' Association (NSA) found that the Medicaid Inmate Exclusion Policy (MIEP), which takes federal healthcare benefits away from those who have been admitted to jail, leads to poor health outcomes and increased reoffending.  
The NACo-NSA Joint Task Force report provides a pre-trial population overview, their healthcare needs and how they're currently receiving healthcare. It provides recommendations and best practices for policy makers, local governments and justice systems.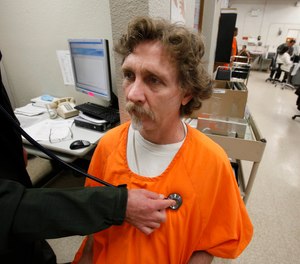 The report also details the implications of MIEP, which takes away benefits such as Medicaid, Medicare and the Children's Health Insurance Program (CHIP) for juveniles upon admission. The policy, according to the report, doesn't recognize the difference between pre-trial and convicted detainees.  
Under current law, detainees who post bail can keep their healthcare coverage. However, for those who are unable to post bail, they face a coverage gap. The coverage gap, according to research, leads to higher rates of reoffending, resulting in over-incarceration.
"It is imperative that every one of us speak up, speak loud for what we need to continue to provide healthcare to those who have not been convicted of a crime and to ensure that our jails are safe and providing the programs they need," David Mahoney, NSA's vice president, said.  
Mahoney, who's also a sheriff in Dane County, Wis., said repealing MIEP for pre-trial detainees would "not only be the right thing to do, it would be the smart thing to do." 
Furthermore, the report claims that access to federal health benefits for non-convicted detainees would improve "coordination of care while decreasing short-term costs to local taxpayers and long-term costs to the federal government." 
Ultimately, the report calls for Section 1905(a)(A) of the Social Security Act (MIEP) to be "clarified and interpreted to allow the continuation of federal benefits, such as Medicaid, Medicare and CHIP for those enrolled and eligible individuals who are pending disposition in local jails, especially those individuals suffering from mental health, substance abuse and/or other chronic illnesses, in accordance with their Constitutional rights to due process and equal protection under the Fifth and 14th Amendments." 
Read the full report here.