Transgender inmate sues for hormone treatments, safe housing
Ashley Diamond is seeking a court order requiring prison officials to provide her with treatments for her disorder, among other demands
---
By Amy Leigh Womack
The Macon Telegraph
MACON, Ga. — As a small child, Ashley Diamond wore a girl's hairstyle and feminine clothing at home.
She went to kindergarten dressed as Jem, her favorite female cartoon character.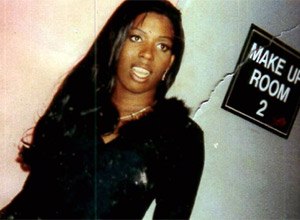 She told family members she was a girl -- even though she had been born a boy.
Later, as a teenager, Diamond attempted suicide and was diagnosed with gender dysphoria, a gender identity disorder.
At age 17, Diamond began taking hormone therapy. Living as a woman, she developed breasts and other feminine characteristics.
Diamond, now a 36-year-old inmate at Baldwin State Prison in Milledgeville, filed a federal lawsuit last week contending that the Georgia Department of Corrections has denied her continued access to hormone therapy and hasn't done enough to prevent her from being sexually assaulted.
"The crux is that prisoners don't forfeit their rights to receive medical care and safe housing when they enter the prison gate," said Chinyere Ezie, one of Diamond's attorneys.
Details of Diamond's childhood are included in her complaint.
She initially filed suit representing herself and asked for a court-appointed lawyer. After learning of the case, though, the Southern Poverty Law Center began representing her free of charge. The center is a civil rights organization that specializes in race, immigration and sexual orientation issues.
"We were moved by her story and her allegations," Ezie said.
The suit, filed in U.S. District Court for the Middle District of Georgia, names several Department of Corrections employees, including the department's former commissioner, Brian Owens, as defendants.
Contacted for comment on the suit, a department spokeswoman said the department doesn't comment on active lawsuits.
Diamond is seeking a court order requiring prison officials to provide her with treatments for her disorder, among other demands.
PRISON ATTACKS
​Diamond entered prison in March 2012 after being convicted of burglary, theft, obstruction, escape and entering an auto in Floyd County, according to prison records.
Her gender dysphoria diagnosis was confirmed during prison health evaluations, according to the lawsuit.
Maximum security prisons house the "most violent" inmates and assaults are "frequent," Diamond's lawyers said, while sexual assaults against transgender inmates at medium-security facilities are "infrequent."
In April 2013, Diamond was assigned to Macon State Prison, a maximum-security prison. Within a month, Diamond had been sexually assaulted, punched, stomped and knocked unconscious, the suit said.
She was transferred to Baldwin State Prison May 24, 2012, another maximum security prison, where she was again sexually assaulted by inmates, according to the suit.
Her lawyers contend that prison staffers were slow to respond, "lost" evidence and complaints that Diamond filed, failed to investigate and "told her she brought her assaults upon herself by being transgender," according to the complaint.
In her nearly three years in prison, "she has been sexually assaulted more times than she would like to recount," Ezie said.
In the next two years, Diamond was transferred from Baldwin State Prison to Rutledge State Prison, a medium-security facility in Columbus, then to Valdosta State Prison and back to Milledgeville.
While at Rutledge State Prison in December 2013, Diamond alleges that she was placed in solitary confinement on two occasions, at least one of them for "pretending to be a woman."
While in solitary, Diamond tried to kill herself and tried to sever her penis with a razor, according to the complaint. Diamond's lawyers say their client has attempted suicide and castration on multiple occasions.
They contend the Department of Corrections has protocols for how to manage transgender inmates, but those protocols have not been followed.
They also maintain that prison officials have not abided by instructions included in the Prison Rape Elimination Act.
Diamond is seeking preliminary and permanent injunctions requiring prison officials to give her treatment for gender dysphoria, allow her to live as a female and provide her safe housing.
She also is seeking injunctions requiring corrections personnel to be trained in the medical and safety needs of transgender inmates with gender dysphoria.
She also wants compensatory and punitive damages, along with declarations that her constitutional rights were violated.
Diamond's maximum release date from prison is in 2023.