Will officers soon be reversing narcotic overdose behind bars?
Naloxone (Narcan) has been a standard medication in use in emergency situations for over 40 years
---
Narcotics overdose is a life threatening situation that is all too common in some correctional settings. Whether jail or prison, inmates have ways of secreting in or obtaining drugs while in our presence. So, a drug overdose must be considered when an inmate is found unconscious without apparent reason. Too much narcotic in the system slows everything down. Respirations are shallow and heart rate is slowed.
These can indicate a number of conditions, but a classic differentiating sign of narcotic overdose is pinpoint pupils in both eyes. Universal treatment for a narcotic overdose is the use of a reversal drug that blocks continued uptake of the offending medication and, therefore, reverses the control it has on body function.
Naloxone (Narcan) has been a standard medication in use in emergency situations for over 40 years. Until recently it was cumbersome to administer, being only available as an injection, and required trained health care staff.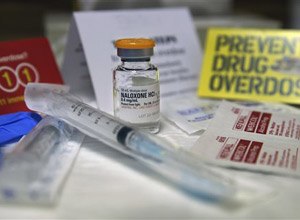 Use by LEOs
The expanded need for opioid reversal in community overdose situations and the formulation of newer, more convenient means to administer naloxone has initiated a movement for the medication to be available for use by first responders. Thus, in some states, law enforcement officers are now equipped to administer naloxone in a suspected overdose situation, while awaiting emergency personnel.   
The Substance Abuse and Mental Health Services Administration (SAMHSA) provides a layperson informational guide for administration in an emergency situation. While health care staff still rely mainly on the traditional vials of naloxone drawn up in syringes and administered as an injection in a muscle or under the skin, there are now approved administration methods using an autoinjector or a nasal method that are convenient and safer for community applications.
Effects and side effects
The shift in acceptance for administration of naloxone by LEOs and other first responders such as family members is also spurred by the low risk involved. The medication has very few side effects and extremely low allergy potential. It works by unlinking the narcotic from the brain receptors and thus reversing the respiratory depression that is the primary cause of narcotic overdose death. In addition, naloxone has no other brain activity effect so it has a low abuse potential, an important factor if the medication is provided to family members for emergency use.
Note: Naloxone only reverses the effects of opiates (narcotics). It has no effect on other depressants like Valium or Xanax and does not reverse overdose of stimulants like cocaine or methamphetamine. However, it might be helpful if the person has taken a mixture of drugs that include narcotics.
Use behind the wall
So, will correctional officers soon be administering naloxone in suspected drug overdoses in our facilities? Possibly. A recent poll I conducted of a number of state and local correctional health care leaders, however, did not reveal a single setting where this is being implemented. Most stated that they have naloxone in the emergency medication kit brought to any man-down situation and it is administered by health care staff when indicated. This seems likely to continue in settings where health care staff are available 24/7 and are able to arrive at the scene in a few minutes.
However, some correctional settings, particularly small rural jails, are without health care staff on all shifts or days of the week. Like community law enforcement, correctional officers may find themselves managing an overdose while awaiting the arrival of emergency medical personnel. In these situations, officer-administered naloxone may make sense.
What do you think? Will correctional officers, like their police counterparts, soon be administering naloxone to probable narcotic overdose victims? Share your thoughts in the comments section of this post.