Authorities say inmate, moments before release, assaulted Okla. officer
Was about to be freed when he struck a correctional officer with shackles
---
By Parker Perry
McAlester News-Capital
MCALESTER, Okla. — Police said an inmate who served two years and five months at Mack Alford Correctional Facility in Stringtown was about to be freed when he struck a correctional officer with the chains he was set to shed, according to a Mcalester police affidavit.
Joshua Thomas Rogers, 26, served time in prison for convictions involving assaulting police officers. He was on the verge of being released on Friday when Correctional Officer Charles Black said Rogers used a belly chain that slipped off his stomach to assault Black at the McAlester Greyhound Bus Stop on the corner of Main Street and Swallow Avenue.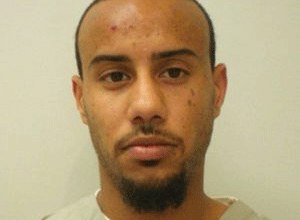 "Black stated that once they stopped the (prison) van at the bus station they opened the door," McAlester Police officer Charles Rogers said. "That is when Joshua pulled away, and then swung his chain at Black striking him in the hand."
Black said he and another correctional officer restrained Joshua Rogers until the officer showed up.
However, when questioned by McAlester police, Joshua Rogers pleaded innocent and said it was the corrections officers that started the altercation.
"Josh stated that they jerked him out of the van and put him on the ground," officer Charles Rogers said.
The officer said Joshua Rogers did admit to speaking aggressively at officers on the trip from Stringtown to the bus stop.
"...he stated that he was mouthing (at) the officers all the way from the time they left to when they arrived at the bus station," officer Charles Rogers said. "Joshua also stated that his belly chain had slipped off his butt and he just took them around his feet not thinking about anything else."
Officer Charles Rogers said there were no markings on Black's hand.
Joshua Rogers is being held at the Pittsburg County Justice Center on $10,000 bond.