Why the FCC's move to cap prison phone call costs is a good thing
It should not cost families and arm and a leg to hear from an incarcerated family member by phone
---
Like most people who have actually working within a prison system (as opposed to "experts" who have "studied" the system and then pontificated on it) I generally regard federal intervention within the system as meddling, and it generally has a negative effect on prison operations. But not always. A case in point.
The FCC (Federal Communications Commissions) has recently (10-22-15) voted to cap the truly extortionate charges made by phone companies for collect calls from incarcerated inmates to their families, friends or whatever on the street. These costs can be several dollars per minute. The new rules will limit the charges to not more than 11 cents per minute and will put a cap on some of the additional costs added to such phone calls. These additional costs can account for 70 percent of the total cost of such a phone call.
The new federal rules will also strongly discourage (though not outright ban) kickbacks from the phone service suppliers to the prison system. I remember when the institution I worked at got a new computerized tracking system for inmate phone calls. The system was paid for by the phone service supplier. This recorded and stored the calls, and created a searchable data base to allow tracking of individual numbers and other handy things. I strongly suspect similar situations are in operation elsewhere. I do not know if there was any financial compensation beyond the computerized support system.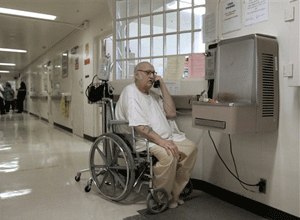 I am not one of the most warm-and-fuzzy people in the world. I am highly dubious of the notion that it is highly valuable for inmates to maintain contact with their friends, families, fellow gang members, etc., through these phone calls. I do, however, realize that many people view it is a rehabilitative or even control program. It should not cost families and arm and a leg to hear from an incarcerated family member by phone. Some of these costs and fees are truly exorbitant to the point of being extortionate; especially considering the quality of the service is often mediocre at best.
So, let's hear on for the feds. They did a good thing, at least this time around.