Why would someone choose to be a correctional officer?
---
A question recently posted to Quora asks, "Why would someone choose to be a correctional officer?" Tim Dees, a retired law enforcement officer, gives his response below. Add your own thoughts in the comments.
For most, I expect it's because they needed a job. 
Confining people against their will is contrary to the moral values most of us have. We're generally taught to respect one another's freedom and movement. Putting people in jail or prison may be lawful and even necessary (sometimes, at least), but it's still a distasteful practice most of us don't want to have anything to do with.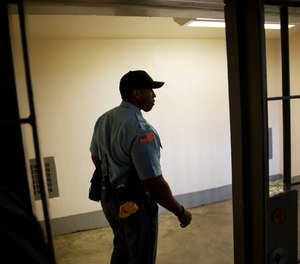 Detention/corrections officers (COs, hereafter) are critical to the justice system. From the security perspective, they ensure that inmates stay incarcerated until the state says it's okay to release them. Inmates may resent or even despise them, but they're still necessary to ensure the inmates are fed, their medications are administered, public health and hygiene matters are attended to, and that stronger inmates are not allowed to victimize weaker ones. 
All of these objectives suffer, because administering a prison is a continuing compromise between institutional security and inmate welfare. It would be simple to lock each inmate in an individual cell, feed them Nutraloaf, delivered to the cell, and maybe hose them down once a week, never allowing them out of the cell until it's time for them to leave. This would also result in inmates becoming fully de-socialized, mentally ill (or more mentally ill than they were before), and suicidal. To avoid this, inmates are mostly allowed to leave their cells or dormitories/bunkrooms, take meals together, congregate and exercise in an open yard, attend religious meetings, and work or attend classes while in custody.
Each of these things provides opportunity to subvert institutional security by allowing communications, manufacture and pass weapons, import and distribute contraband, and even escape. The COs are there to keep this from happening. They're generally more successful than not, although every prison has its failures and problematic incidents. 
COs don't enjoy the social status that police officers and firefighters have. Both the police and fire services are viewed as exciting, "hero" jobs by many, if not most, people. It's not at all uncommon for a child to express a desire to be a police officer or firefighter when they grow up. If they said they wanted to be a prison guard, their parents would rush them into therapy. 
Corrections is a professional field, and there are many professional-grade people in the job, doing the best they can and trying every day to get better. Still, it is often the second choice for unsuccessful police applicants and people without marketable job skills. The job doesn't usually involve a lot of difficult labor, the pay and benefits are regular and secure, and most systems always have openings. 
When I was teaching in Georgia, the state academy in Forsyth was turning out a class of 30-60 new COs every three weeks, and had been doing that for a while. There were just as many people going out the back door as coming in the front, so the demand for new COs never let up. 
Personally, I admire COs for doing a job that is difficult at best, and something I don't want to do. I would be pretty nervous if I spent my days locked in a facility with convicted felons who mostly hated me, and I had only a radio and maybe a baton to defend myself with. I wish they could be valued more by society.