$50k starting salaries for Ala. COs as prisons wrestle with staffing woes
The state also announced there will be pay grade and salary increases for current officers and additional steps for pay raises
---
By Ivana Hrynkiw
al.com

MONTGOMERY, Ala. — Correctional officers in Alabama are getting a raise, amid a federal lawsuit that focuses heavily on the state's understaffed prisons.
Alabama Department of Corrections Commissioner John Hamm announced the pay increases in a press release Tuesday morning. The raises are "an important step in the commissioner's plan to strengthen the department's recruiting and retention efforts," said the release.
The prison system has been working with the State Personnel Department and Gov. Kay Ivey's office throughout this process, the department said.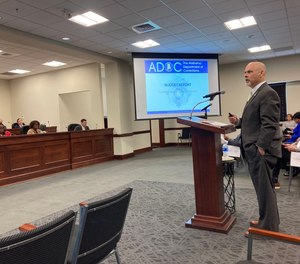 The increases to starting salaries are as follows:
$55,855 at maximum security facilities
$53,245 at medium security facilities
$50,712 at work release and community work centers
Over six years ago, the U.S. Department of Justice began investigating the state's overcrowded, understaffed prisons for unconstitutionally dangerous conditions—a lawsuit that's still ongoing and for which a judge has set a 2024 trial date.
The DOJ sued Alabama in December 2020, alleging the failure to protect prisoners from inmate-on-inmate violence and sexual abuse, failure to protect them from excessive force by staff, and failure to provide safe conditions of confinement violate constitutional prohibitions on cruel and unusual punishment. Their findings repeatedly cited understaffing issues within Alabama's prison system.
The state today also announced there will be pay grade and salary increase for current officers and additional steps for pay raises. The state will also add a new promotional classification for Correctional Security Guard Senior, and the plan expands different pay for medium and maximum-security facilities to include support staff in addition to correctional officers.
Hamm said he's proud of the "successes" of the prison system and that they represent "the beginning of an ambitious agenda."
"Some of the projects we have prioritized, but are not limited to, are building new prison facilities; implementing a modern inmate management system; streamlining the correctional officer hiring, retention, and training processes; and actively supporting the reinstatement of Tier 1 retirement benefits for all employees," he said.
©2023 Advance Local Media LLC.
Visit al.com.
Distributed by Tribune Content Agency, LLC.
McClatchy-Tribune News Service