CDCR graduates 254 new corrections officers
The 13-week Basic Correctional Officer Academy includes training in communication, de-escalation, arrest and firearms
---
By Corrections1 Staff
GALT, Calif. — The California Department of Corrections and Rehabilitation celebrated the graduation of 254 cadets from the Basic Correctional Officer Academy on June 30.
The 13-week academy includes training in communication, de-escalation techniques, arrest and control, physical fitness, report writing, firearms and use of chemical agents. Cadets who live more than 30 miles away from the academy have the option for free on-site housing.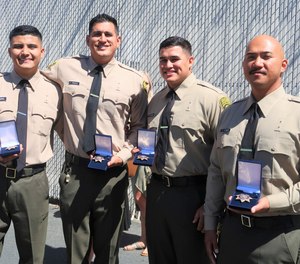 The graduation featured keynote speaker Rick Hill, Folsom State Prison Warden, who retired the following day, capping a nearly 38-year career. Hill rose through the ranks, beginning as a correctional officer at Deuel Vocational Institution in 1984.
"Hill gave an exceptional speech to cadets which included uplifting letters written by the incarcerated population to himself and other CDCR staff," according to academy staff.
The Basic Correctional Officer Academy is held at the Richard A. McGee Correctional Training Center in Galt.
Learn more about the Academy and how to apply to become an officer.