N.M. prison workers union votes 'no confidence' in secretary over job conditions
"The Department of Corrections believes there isn't a staffing crisis and the union believes there is," said union director Connie Derr
---
By Phaedra Haywood
The Santa Fe New Mexican
        
SANTA FE, N.M. — Members of the union that represents New Mexico's prison workers have taken a vote of "no confidence" in state Corrections Secretary Alisha Tafoya Lucero and Adult Prisons Division Director Gary Maciel, union leaders wrote in a letter to Gov. Michelle Lujan Grisham earlier this month.
"This majority vote reflects the decline in working conditions within the New Mexico Corrections Department," the letter said, citing in particular problems with staffing levels.
It was signed by President Elmer Chavez and Vice President Jonathan Montano of Local 3422, a chapter of the American Federation of State, County and Municipal Employees.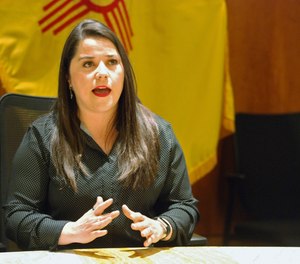 The union represents more than 900 employees, but Montano said only 680 are dues-paying members, and 439 of them voted in favor of the motion for no confidence.
The governor has not yet responded to the union's letter, which requested a meeting with her to discuss its concerns, he added.
The letter to Lujan Grisham said Maciel has "failed to maintain a working relationship with the union," including on "vital issues like safety and employee's rights."
It also alleges he "has not made a legitimate attempt to hire staff and maintain adequate staffing levels" at state-run prisons, which long have struggled with chronic staffing shortages.
"These issues have negatively affected employee morale and have caused workers to seek other employment outside of the New Mexico Corrections Department," the letter said.
"We are not happy," Montano said in an interview. "We want change. ... We're not saying we want these people removed from office, but at this point we don't have the confidence in our prison leadership to continue on the path the way we are."
Nora Meyers Sackett, a spokeswoman for the governor, wrote in an email, "We don't have a comment on the allegations other than to say the administration has a great working relationship with statewide AFSME and if there is any merit to the allegations — which have not been raised to us by leadership — the administration will address them with union leadership directly."
Corrections spokesman Eric Harrison declined to comment directly on the letter. He wrote in an email, "We always work with union leadership within the confines of our collective bargaining agreement in order to find mutually beneficial solutions to any verifiable issues. Our leadership is in constant communication with the AFSCME leadership, and we continue to have a positive working relationship."
Harrison also wrote safe staffing is "paramount" to the department and that it has held recruitment events.
Montano said state corrections officials have had some communication with AFSCME Council 18, the umbrella organization for public workers unions in New Mexico and Colorado, but refuses to talk with leaders of Local 3422.
"The department does not acknowledge us as the union leadership," Montano said. "They will not have direct communication with us even though we are the authority for the union."
He also said the department has failed to make vacant positions desirable.
"They aren't being competitive," Montano said. "There is no incentive to stay. You stay at the same pay until the Legislature gives you a raise."
Montano said other agencies, including the Metropolitan Detention Center in Albuquerque, are offering hiring bonuses for employees, "and those are drawing people away at an alarming rate."
Lack of staff forced the closure in January of a minimum-security facility known as "The Farm" that was part of the Central New Mexico Correctional Facility in Los Lunas, which Montano said crushed morale among inmates who had been living there.
"They closed it to save money," said Montano, who works at the prison.
A forestry program that once put 35 to 40 inmates to work cleaning brush and conducting controlled burns has been reduced to about 15 inmates "due to staffing," he added.
Chavez, who works at Springer Correctional Center, said the women's prison has discontinued baking, automotive and woodworking courses because of short staffing.
"Without the staffing there, is no way those programs can run," he said.
Harrison wrote in an email the state agency has "continued to prioritize programming for the inmate population by continuing to offer vocational training opportunities including barbering, welding, and carpentry" and has expanded the initiative to include "heavy equipment operation, CDL certification, job site safety training, electrical wiring, HVAC certification, cabinet making, and web fundamentals."
AFSCME Council 18 Executive Director Connie Derr said corrections officials met with union negotiators Thursday morning in an attempt to address some of the concerns regarding staffing.
"I think both sides could have been doing a better job at keeping communication going," Derr said. "I don't want to say it's a great relationship, but ... it's not a fractured relationship."
Still, she said it "has been a challenge" to get corrections officials to work with the union on staffing issues.
"The Department of Corrections believes there isn't a staffing crisis and the union believes there is," Derr said. "... I would say the department does not see the same level of importance for safe staffing levels that we see."
She acknowledged staffing shortages make prisons more dangerous.
"With insufficient staffing, there are some posts that are just shut down," Derr said. "So maybe they'll just keep the inmates in their rooms and just give them an hour release, and then when you have that, you've got some agitated inmates."
  
(c)2021 The Santa Fe New Mexican (Santa Fe, N.M.)
McClatchy-Tribune News Service