Wis. jail has seen 112% staffing turnover since 2019
An emergency resolution is quickly moving through Racine County government that would drastically increase pay for essential staff
---
By Lauren Henning
The Journal Times
        
RACINE, Wis. — Another correctional officer in the Racine County Jail walked off the job last week.
The jail's "dire" staffing shortage is getting worse. County officials report that the jail is currently 27 corrections officers short of being fully staffed and has seen 110 officers resign in the past two years compared to only two retirements, a turnover rate over 100%.
The county is facing staffing shortages beyond just the jail. According to Racine County Executive Jonathan Delagrave, the county only has about 75% of its desired number of operators.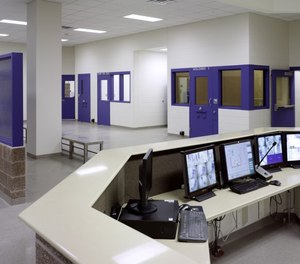 An emergency resolution is quickly moving through Racine County government that would drastically increase pay for "essential" staff. Corrections officers would see the biggest boost, with their starting expected pay potentially being increased from $44,643 up to $60,243 per year. That would bring their pay from one of the lowest rates in southeastern Wisconsin to the highest, a change Delagrave and other county leaders hope will improve retention.
The proposal comes forward five weeks after two men died in the Racine County Jail — Ronquale Ditello-Scott Jr. on May 29 and Malcolm James on June 1. Investigations of both deaths remain open.
112% turnover
"We have a dire need," Delagrave said during Wednesday's county Finance and Human Resources Committee meeting, where the pay raises were passed by the committee and now can be reviewed by the full County Board. "I am very, very concerned about some of the essential services we provide to our residents."
Essential services that operate 24/7 have moved to requiring overtime for current employees to cover open shifts. Capt. Bradley Friend, administrator of the jail, said officers are working overtime to cover the 27 open positions. At any given time, depending on the workload and shift, there are 18-28 officers on duty, according to Sgt. Michael Luell, public information officer for the Racine County Sheriff's Office, which operates the jail.
In the last two years, Luell said the jail had 110 correctional officers resign. With approval for 98 positions, that means the turnover rate has been an astronomical 112%.
Operating the jail with 75% of expected staff doesn't meet safety expectations, according to Friend.
"Quite frankly," Friend said, "dealing with the safety and security of the facility becomes tough if we have to force someone to work a 16-hour shift and then say, 'Well, tomorrow you're going to have to do the same thing.'"
If approved by the County Board, the minimum hourly pay for a corrections officer would go from about $21.50 to about $29, an increase of $7.50 per hour. If adopted, the new wages would put Racine's corrections officer pay above other regional counties' pay, which Friend hopes will stop other counties from "poaching" officers from Racine — i.e., COs who get their start here, then leave for better paying jobs elsewhere.
While wage increases in the past have been ineffective, as other counties have quickly done the same to remain competitive, Delagrave believes this will be different.
"I do think being first out of the funnel, or the engine on the train, will provide us some good faith or goodwill with our current employees, and we'll be able to recruit," Delagrave said. "And once we get employees in the door, I believe our work culture and what we do for our employees will keep them."
Corrections officer starting annual pay by county — S.E. Wisconsin
Washington — $49,795.20
Waukesha — $48,630.00
Washington — $47,028.80
Dodge — $44,948.80
Fond Du Lac — $49,067.20
Kenosha — $43,992.00
Rock — $42,640.00
Racine (current) — $44,643.04
Racine (proposed) — $60,243.04
The bottom line
The pay raise resolution would affect up to 338 county employees, including corrections officers, 911 dispatch operators, juvenile detention workers, mental health crisis workers and highway department machine operators and mechanics.
The total estimated cost of the resolution is about $17 million over the next four years, with a 3% pay increase added for merit and cost of living increases, according to county finance director Brian Nelson.
Racine will be receiving more than $38.1 million in aid as a part of American Rescue Plan Act funds, with half of it already received. The resolution would use about $7 million of those funds in the next two years, according to Delagrave, while the rest of the cost will be built into the budget over the next for years to avoid an eventual budget deficit.
Delagrave emphasized that while wages would increase should the resolution pass, the "county government footprint" would not.
     
(c)2021 The Journal Times, Racine, Wisc.
McClatchy-Tribune News Service