CO opens athletic center after losing eye in inmate attack
Dale Franquet Jr. credits his lifelong involvement with wrestling for keeping him alive when he was assaulted by a shank-wielding inmate
---
By Marcia Moore
The Daily Item
MIDDLEBURG, Pa. — Allenwood Federal Penitentiary corrections officer Dale Franquet Jr. credits his lifelong involvement with wrestling for keeping him alive on Dec. 7 when he was assaulted by a shank-wielding inmate.
"The sport of wrestling saved my life that day," said the 51-year-old who has coached the Midd-West School District wrestling team for 28 years. "Because I had good conditioning and am in good shape, I was able to respond (to the assault) quickly."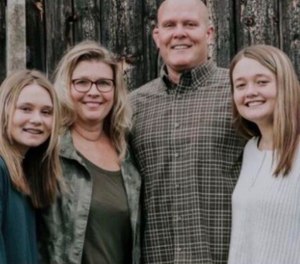 Franquet lost his right eye and sustained stab wounds to the back of the neck and on his face below his left eye during the assault by a 22-year-old Canadian inmate serving 40 years for plotting a terrorist attack in New York City.
"I'm thankful to have two feet on the ground. I have my life, my wife and my children," he said of wife, Angela, and daughters, Mekenna, 14, and Maesyn, 12.
He was fitted for a prosthetic eye last week but will have to refrain from certain strenuous activities, including participating in sports with his student-athletes and his daughters, until he is fully healed.
"That's the hardest thing for me, I don't like to lose at anything," Franquet said, adding, "It will get better."
Admittedly competitive, he isn't letting the traumatic injury get in the way of his plans to open a youth sports training center near his home in Middleburg.
Twisted Steel Training Center, 292 Water Tower Road, was scheduled to open on Dec. 13, six days after the assault. With the help of many friends and relatives, the arena — featuring two full-sized wrestling mats, batting cages and artificial turf — opened in early January.
"This is what he's always wanted to do for his boys (wrestling athletes) and his girls," wife Angela said.
Franquet envisioned a center where area youth could work on their athletic skills and "keep out of trouble," he said.
In the two months since Twisted Steel opened its doors, the facility has offered wrestling clinics three times a week that attract up to 25 kids per session from across the Valley and special events, including speed and agility training courses led by Ryan Schuck, a former Selinsgrove and Ohio State football player.
Allenwood Penitentiary corrections officer John Peters, of Selinsgrove, started working at the prison the same day as Franquet in 1998, and never doubted his friend and co-worker would open the training center so soon after being injured.
"If Dale says he's going to do it, he'll do it," said Peters as he watched his son, Jack, 13, work out on the mat with a group of other young wrestlers Wednesday evening. "This is a great facility for the area and they have great coaches."
Angela Franquet said opening and operating the training center has helped keep the family's attention diverted from her husband's life-changing injury.
Maesyn recently celebrated her birthday with friends at the center and Mekenna is looking forward to having her birthday party there, too.
Franquet, who planned to work at the prison until the mandatory retirement age of 57, said his future is uncertain.
"My whole life has changed. Right now, this (Twisted Steel) is occupying my time," he said.
The one bright spot for his daughters is being able to spend more time with their father.
"It made us even closer and stronger as a family," said Maesyn.
MeKenna said she likes having her father around the house more, especially when they have to study remotely. "He's home here with us and helping with homework," she said.
Angela Franquet said her husband's optimistic outlook has made it possible for all of them to cope with the tragedy.
"I always knew he was an exceptional man," she said. "He has reeled us three in. His good attitude has brought us up."
Visit Twisted Steel Training Center's Facebook page for more information.
___
(c)2021 The Daily Item (Sunbury, Pa.)
McClatchy-Tribune News Service