Iowa CO running across state in honor of colleagues killed in attack
Ryan Miller hopes the feat will bring awareness to the difficult work of corrections staff in his home state
---
By Sarah Sinning
ANAMOSA, Iowa — A correctional officer from Anamosa State Penitentiary is halfway through a 339-mile run across the state of Iowa in honor of two colleagues who lost their lives on the job — CO Robert McFarland and registered nurse Lorena Schulte were beaten to death by two inmates during an apparent escape attempt back in March.
CO Ryan Miller began his journey on Friday, the Des Moines Register reports, with plans to complete roughly 40 miles each day. The goal is to raise $20,000 for the family of Robert McFarland through sales of honorary apparel via his website, visionrunner.org, and via direct donations to a GoFundMe he helped the family set up.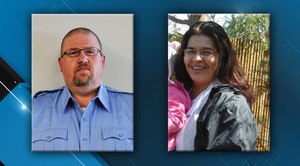 "He was one of those guys that you could kind of lean on, ask questions," Miller said of McFarland. "He would always take the time to see how you were doing, help you out and guide you the right way." 
Miller also had kind words for Schulte, who he got to know during their time working third shift together. "Lorena was a beloved daughter, sister, and aunt who will be remembered forever for her passion as a kind and caring nurse for the State of Iowa," he wrote on his website. 
But Miller also hopes his feat will bring much-needed awareness to the incredibly difficult work performed by his colleagues at the Department of Corrections. 
"Many men and women in the state of Iowa work inside the state's prisons everyday with little to no recognition," he wrote, "and I will be running to draw some much deserved attention to each member of the IDOC and honor the difficult jobs that are being done each and everyday." 
Cord Overton, chief of staff for the Iowa Department of Corrections, said that Miller's show of support for his colleagues is "nothing short of extraordinary."
"While there will be miles along the way that it might seem like he's running by himself," Overton said, "he will be carrying the support of every employee of this department with him, every step of the way."