Corrections and the mentally ill: 3 ways to improve the system
I hope to see improvement in how law enforcement manages the mentally ill offender
---
As a trainer and retired deputy sheriff, one issue that keeps coming up time and again is the problem of local jails being de facto mental hospitals for their community. If you ask veteran jail officers whether they had experienced bad encounters with mentally ill offenders, they probably will ask you how much time you have and then relate experiences that will make your head turn. Smearing feces on cell walls, spitting, yelling, screaming, head banging, barricading themselves in cells, not following instructions, refusing to eat, refusing medications, not bathing, tearing up jail uniforms, assaulting staff and other inmates – shall I go on?
In jails, everyone has to tend to the mentally ill – officers, medical staff, classification staff and mental health staff.  Mental illness is an illness. It is not like a disease that can be cured. You don't give a mentally ill inmate a shot and suddenly the illness is gone. Mental illness in jail is managed through a combination of medications, safe housing and staff intervention. And staff intervention, in order to be effective, has to come from awareness and training. 
An article by Jeff Shannon, a police officer, law enforcement instructor and licensed marriage and family therapist, cites data from the Treatment Advocacy Center that one half of everyone with a serious mental illness in the United States does not receive treatment. And when law enforcement officers respond to citizen calls for assistance, these individuals with serious mental illnesses and no treatment are difficult to control, manage and subdue safely. Shannon said that according to the TAC, 25 to 50 percent of all the people killed by law enforcement are seriously mentally ill. Often there is no time to ascertain mental illness because safety comes first.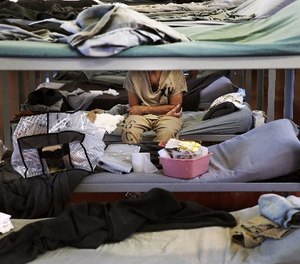 Law enforcement officers, from the cop in the cruiser to the local jail deputy, are caught in the middle when they encounter mentally ill offenders. Oftentimes a call for service will come in and an officer will be dispatched to remove a subject who suffers from mental illness from a given location. If the subject is arrested and taken to jail, they fall under the care of the correctional officers.
To better address this issue, I offer these recommendations:
1. More funding must be provided to mental health resources in the community, including programs that divert mentally ill offenders from going deep into the criminal justice system. Mental health courts and on-site mental health staff working with the police on the street would ensure that these individuals get the help that they need.
Not all mentally ill offenders will be diverted. Sometimes the crimes are serious and the criminal courts must take a look, but low level offenses committed by seriously mentally ill offenders should not result in a local jail being a mental hospital. As Shannon said, that homeless camp down the street can be dealt with by more effectively by increased funding in the local community mental health system than taking the persons to jail.
2. Training is never to be undercut or underfunded. Officers must receive training in working with the mentally ill, and it is progressing. I assist in basic jail officer training in Virginia and have seen improvement in the curriculum. Criminal justice agencies are wise to invest in more mental health staff. Good mental health staff can provide good training.
3. Innovations in training and awareness are recommended. I teach an in-service class in managing special populations. In the section on the mentally ill, I include information from the National Alliance on Mental Illness. While co-teaching an in-service seminar several years ago, the local NAMI chapter offered to supply guest speakers – mentally ill persons who had made progress. They spoke of law enforcement encounters, depression and suicidal behaviors. It was well received by the class.
Every officer should undergo crisis intervention team training. Effective mental health screening is mandated by many correctional standards, and trainers should have in-depth ongoing mental health training. Even the old veterans – who may be close-minded – have to be reached about this subject.
In closing, I hope to see improvement in how law enforcement – including corrections – manages the mentally ill offender.