Sheriff's Dept. partners with state university to offer CO training
The emphasis of the program, and courses to be offered with it, will be on correction
---
Kevin Shea
Watertown Daily Times, N.Y.
CANTON — A partnership between the St. Lawrence County Sheriff's Department, the state Division of Criminal Justice Services and SUNY Canton will offer corrections officers training that can provide SUNY students with college credits and certifications to work as corrections officers or police.
Current corrections officers will also participate in the academy.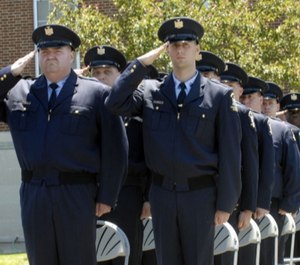 The new academy emerged from discussions a year ago between the school and the county sheriff's office, according to Elizabeth A. Brown, SUNY Canton's Criminal Justice Department curriculum coordinator.
"In those discussions we talked about how students could enroll in the academy for credits," Ms. Brown said.
For SUNY Canton, which already offers three four-year criminal justice degrees for future police and corrections officers, hosting the academy was the next logical step, she said.
The emphasis of the program, and courses to be offered with it, will be on corrections, as the number of corrections officer jobs in the north country and the number of corrections officers produced by the school have been rising.
The academy will be held from June 3 to July 3 and courses will take place Monday through Friday.
Each of the courses will be taught by members of the St. Lawrence County Sheriff's Department.
Because the program will be held in the summer, students from other SUNY schools will be able to participate and earn credits and certifications they can bring back with them.
The St. Lawrence County sheriff's office will also be able to draw corrections officers from prisons across the county to the academy.
The academy will be the second corrections academy linked with a college in New York state, according to a news release from SUNY Canton.
SUNY Canton students can also enroll in two upper-level online courses of six credits total.
Meanwhile, students will have another opportunity to earn credits through the David Sullivan St. Lawrence County Law Enforcement Academy, which is held at SUNY Canton during its spring semester.
Doing so could yield, along with a degree, pre-certification as a corrections officer and a police officer.
Passing the academy will also give students pre-certification to work as county corrections officers, according to Ms. Brown.
———
©2019 Watertown Daily Times (Watertown, N.Y.)
McClatchy-Tribune News Service