'Those who can, do; those who can't, teach': Why this saying has no meaning in corrections
The best teachers in any profession are the ones who do the work every day
---
Do you remember certification? Mine was 15 years ago, and the funny thing is, it was one of the only times I ever saw a probation officer teaching another probation officer on a subject that dealt with community corrections. I loved the fact that I was able to ask the instructors questions about the job; they provided real work-related answers. But as my journey into the world of community corrections began, I saw a major flaw in our profession: a lack of probation officer to probation officer training. 
Developing a passion to teach
I have always seen myself as an instructor, so I began taking instructor courses early on in my career. Back in 1997. I took an expandable baton instructor class, through which I was shown how to present to the class and how to create a class curriculum from scratch. I was hooked, to say the least.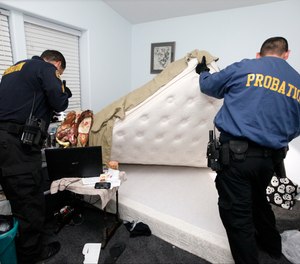 As the years went on, I attended an OC spray instructor class that taught me the importance of my body language and hand gestures when instructing a class. That class also helped me realize something else: My true calling in life was to instruct classes and teach as much as I could.
I found myself engulfed with wanting to learn more, so I started to read up on anything I could in an effort to enhance my craft. 
One day in one of my many readings I found the following phrase, "Those who can, do; those who can't, teach." This quote is from George Bernard Shaw's 1905 stage play "Man and Superman," and it is over 100 years old. As I read it, I couldn't help but wonder how many instructors have taken offense at this quote over the years; its derogatory nature seems beyond insulting to me. Sure, I have known my fair share of educators who have spent their lives behind a desk and are certainly not as fluent in practicing subjects as they are in teaching them, but thankfully, the world cannot say that about 100% of teachers; that I am sure of. To me, teaching is an art, and if you can master it, if you can find the joy and the excitement in it, well, then you are truly an asset to the profession. And this has everything to do with being able. 
Why are we not teaching each other?
When I entered into the world of community corrections, my continuing education for the most part was not led by a probation or parole officer, which I found odd. In fact, most of the time these courses were taught by a law enforcement professional. I found it interesting that a member of my chosen profession was not up on the chalkboard teaching me to enhance my craft.
My father built homes for a living, and he would always say, "Don't get the guy who pours cement to build your roof because you'll regret it." As I jumped from training class to training class, the wisdom behind these words became even clearer, particularly as I found that some of the best "teachers" in my profession were actually the attendees in the hallway afterward talking about how they would adapt the class to their daily jobs.
It was in those moments that I found myself frankly bothered: Why are we not teaching each other?
I knew what I had to do.
A Community corrections officer steps to the chalkboard
Invigorated by this realization, I began to attend as many law enforcement training classes as I could. I found the training material, I researched additional information, and I tied it into community corrections/casework as much as possible. I also found myself looking for published research articles on safety and statistics on community corrections/parole. I looked into the areas of concern in my daily activities and before I realized it, the beginnings of what would ultimately be a series of community corrections-specific courses were starting to take shape.
I had found a way to feed my need to teach.
Later on, in June 2009, I was sent to Sam Houston State University to attend the Correctional Management Institute of Texas' Staff Safety Training for Trainers. It was there that I met Robert "Bob" Thornton and Ron Scheidt with the Community Corrections Institute. The class was full of knowledge and tips of the trade. I also met officers from all over the state of Texas, and truth be told, I still have communication with many of them. We share stories and ideas that are implemented into my training classes today.
After attending another CMIT training program in February of 2018 (Foundation Skills for Trainers), which introduced me to the incomparable John B. Kinsey of the Texas Juvenile Justice Department, my confidence level was through the roof, and I knew I was ready to move forward.
Later that year, I reached out to CMIT and requested to be added to the call for presenters for their Gangs Conference. I took a shot at it, and presented my program P.O.S.T (Probation Officer Safety Training): Field/ Home Safety, and much to my surprise, it was a success. The reviews were positive and the turnout was great.
Since then, I have created multiple training programs and presented at several conferences. It almost feels surreal that I have been able to share what I have learned and provide much of my own experience to officers throughout the great state of Texas.
experience will always be the best teacher
The point is, a good teacher wants you to go out into the world and be successful because the true burden of all instructors is what becomes of the student. No instructor wishes for you to be a student forever; a true teacher should encourage you to learn, think and act for yourself.
If you are fortunate enough to find an instructor who can teach his profession, that is a true gift. I am sure that there are many instructors out there who can teach you about economics and time management, but if you are able to find one who can tie it to our profession, that is truly a class worth attending.
Experience in the world of community corrections will always be the best teacher. I should know; I have been in this field for over 16 years, and I am still learning. Every year I spend in this wonderful profession is a year of knowledge and experience that will allow me to enhance my teaching skills and my curriculum. I encourage anyone who took the time to read this article to consider enhancing the profession and find a way to teach all that you have learned to another officer.
Don't let a 100-year-old quote stop you from experiencing one of the greatest joys in life, because, after all, we are each other's greatest teachers.