Wrap up: Why an inmate's transfer after saving an officer's life was the right thing to do
Feelings of obligation are powerful and can be easily used against an officer; also, recognizing an inmate for his good deed places him at risk with other inmates. Moving him was best for everyone involved.
---
By Anthony Gangi, C1 Columnist
Last week's scenario dealt with obligation:  An officer's life was saved by an inmate, leaving the officer feeling a sense of obligation toward that inmate. The officer's warden took steps to alleviate that sense of obligation by having the inmate transferred. The feeling of responsibility should never be taken lightly.  It is through such feelings that staff can become compromised.  From his point of view, the warden made a choice to prevent manipulation by removing the threat.  This scenario brought a lot of valuable feedback that comes deep from the heart of those who walk the walk. 
A secondary issue dealt with recognizing the inmate for the good deed he provided.  The warden felt that recognizing the inmate's good deed could put him in harm's way when it came to other inmates.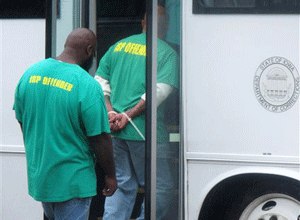 MissCounty465 mentions a great solution that goes against public recognition, but still provides the inmate with a reward for the service he provided.  They suggested that the inmate could meet with the warden and inform the inmate that his "conduct will be taken into consideration by the parole board."
"Give him the option of staying or leaving (he knows whether to expect trouble). If there's a more favorable unit, let him move there; if he's in danger, ship him out. Include [Officer] Smith in the process. Taking action behind his back question will make him feel worse than before."  What MissCounty465 writes can easily help the officer deal with his feelings of obligation.  It resolves the feeling of debt and rewards the inmate for his good deed without putting him in harm's way.
When it comes to feelings of obligation, NYSCIU believes the warden did the right thing.
"[Inmate] Wade has to go. Wade did the right thing but in order to eliminate any conflict of interest/favoritism, remove him from the officer's direct supervision. A meeting should have taken place with Smith's area sergeant and the warden. Smith should have been advised of the actions regarding Wade and reasons for such," NYSCIU writes. "After this, Smith and the sergeant advise Wade of the same. For Wade's actions, Wade should be told this will not go unnoticed.
"A letter of recommendation or commendation will be submitted to his personal file for presentation at his Parole Board , etc. There is always a means for Smith and Wade to 'discuss' the incident within the confines of the facility. Eventually if any controversy erupts regarding this, Wade will be transferred out of the facility. As far as 'other inmates not knowing that Wade saved the officer;' that sounds like a Hollywood movie. I know this is a scenario but if it were true, it wouldn't last long. We all know there are no secrets in jail and a lot of times we are our own worst enemy."
shanejthomas admits that the situation at hand is a bit complex.  They wrote, "That's a tough one and I can see both sides. If the inmate is 'recognized,' then it could possibly put them in a vulnerable and compromising situation. If the officer can't help but feel indebted to the inmate, then that would put him in a vulnerable and compromising situation. We simply can't turn a blind eye toward our codes of conduct or the realities of prison culture for the sake of doing what feels right. We would have no issue nor think twice about separating two inmates if a conflict existed.
"With that said, why wouldn't we separate an officer and a prisoner? Conflict is conflict, regardless of how we got there or the circumstances behind it, even if it was created as a result of a good deed. Assuming that relocating the prisoner somewhere 'in house' wouldn't have ended the compromise, I would say the warden did the right thing."  shanejthomas is a hundred percent correct when they mention that this presents a conflict and it needs to be resolved.  In this case, the conflict presented deals directly with the officer and his feelings towards the inmate.
Tower4guy writes, "I've seen this happen several times in both the facilities I've worked and transferring the offender was the right thing to do for his own safety. Other inmates not finding out? Seriously? (Only thing that kept one of our inmates alive was an out-of-state transfer.) Above may be a scenario but it also prevents 'Officer Smith' from being manipulated by any inmates."
dccnaz also makes note of concerns that should have been addressed immediately that go outside just the one officer who was directly affected by the inmate's good deed.  dccnaz states, "The best way to resolve this issue would have been to transfer the inmate right after the incident happen. The officer is not the only one that might have that feeling of obligation. The other staff, friends of the officer, might have that same feeling. Since that did not happen, then prior to the officer coming back to work would have been a good time to transfer the inmate."
Feelings of obligation can be a very powerful thing.  The warden took a preventive measure by implementing the transfer.  The warden's actions limit the possibility for that officer to be manipulated.  It is my personal belief, and in agreement with the statements presented above, that warden's preventive action was a needed measure to ensure the safety and security of, not just the officer, but the institution as a whole.