1 of 2 escaped New Mexico inmates apprehended, marshals say
Undeterred by shackles, two prisoners, a convicted murder and another with a violent history, somehow slipped away
---
Associated Press
ALBUQUERQUE, N.M.  — With the headcount complete, the two guards pulled away from a state correctional center in a remote part of southeastern New Mexico with five prisoners and all of their belongings in tow for the last leg of what had already been a long journey.
It wasn't long before they stopped in the next town to put gas in the van. After leaving the convenience store in Artesia, the guards turned off the main highway and crossed through nearly 200 miles of desert and a mountain range before arriving at their final destination in Las Cruces around 1 a.m. Thursday.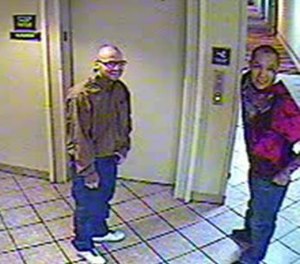 Then came the startling discovery.
Undeterred by shackles, two prisoners — a convicted murder and another convict with a violent history — somehow slipped away in white prison jumpsuits and vanished into the night with no one noticing, possibly for hours. They hitched a ride and made it to Albuquerque around the same time that authorities notified the public of the escape.
One of the escapees, Joseph Cruz, 32, was taken into custody in Albuquerque after a brief foot chase Friday evening, deputy federal marshal Ben Segotta said.
But corrections officials were still struggling to answer embarrassing questions about the missteps that could have been made, including how the men could escape when authorities say they were last accounted for in leg irons and belly chains. The questions only helped to highlight concerns raised in recent months as the department struggles with a budget crisis, a guard shortage, overworked employees and other problems.
Gregg Marcantel, the state corrections secretary, said the two unidentified guards were placed on administrative leave pending the outcome of the investigation into the escape.
"Anything less would be remiss," he said as he left Friday's briefing.
State Police Chief Pete Kassetas wouldn't say whether investigators had determined how Cruz, convicted in the death of a man over drugs in Raton, and Lionel Clah, who was serving time for armed robbery and shooting at a police officer, escaped the fortified prison van that was transporting them from the state penitentiary in Santa Fe to the southern region of the state.
Authorities raised the likelihood that the getaway happened at the gas station in Artesia, was planned and that the fugitives were receiving assistance from others. But they wouldn't disclose what surveillance video from that gas station may have revealed.
"We're definitely talking to family members, friends, associates, whatnot. They're getting help, no doubt about it," Kassetas said.
The state also announced it was partnering with the U.S. Marshals Service in the search. Tips have come in from as far away as Texas and California. Federal authorities said they're offering a $10,000 reward for information.
Standard precautions for transporting prison inmates include a search of each prisoner and the vehicle at each stop for clandestine tools or weapons, said Gary Klugiewicz, a former inmate transport trainer with security consultant Vistelar in Wisconsin. He said officer fatigue and complacency can undermine security at the end of long a long trip.
High-risk inmates should rarely — if ever — be allowed out of sight.
"What if they have a medical emergency?" he said. "If you're sitting in a van, the point is, and you have a murderer behind you, how much would you have visual contact?"
Corrections officials said Clah, 29, should be considered armed and dangerous and that he could be identified by distinctive tattoos on his neck and arms. Clah also had a feather tattoo on his left cheek.
Before Cruz's capture, both men were spotted on surveillance video at a hotel in Albuquerque.
Gone were the shackles and white jumpsuits. Clah was wearing a red T-shirt and jeans and Cruz a tan, collared shirt and jeans.
Albuquerque police later set up a search perimeter on the city's northwest side. But they announced early Friday that their hourslong search of the area had concluded and the convicts were still at large. Cruz was taken into custody Friday evening.
An undersheriff in San Juan County, where Clah has ties and was accused of a shooting at an officer during a high-speed pursuit, said his agency was advising the public to remain alert in the event Clah returned to the area.
"Everyone is very aware of what's going on," Undersheriff Shane Ferrari said. "We're still alert. There's a possibility they are coming back into our area."
Copyright 2016 The Associated Press